KRT064460
Ratchet screwdriver set 22 pcs
KRT064460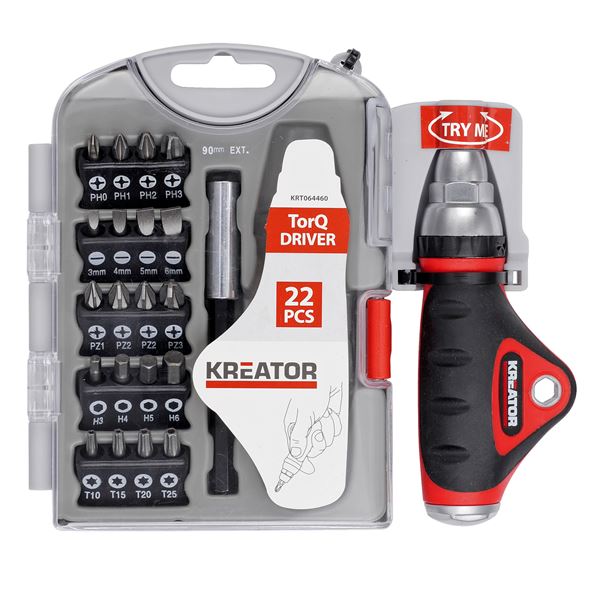 Description
This 22-piece set of bits is essential when you need to firmly secure screws or bolts. The ratchet screwdriver and extension piece provided are magnetic, so you can mount screws and bolts even more easily. The rubber, ergonomical handle provides a firm, comfortable grip. All this in one small case!
Contents of this set:
4x screw bits: SL3 / SL4 / SL5 / SL6
4x screw bits: PH0 / PH1 / PH2 / PH3
4x screw bits: PZ1 / PZ2 / 2x PZ3
4x screw bits: T10 / T15 / T20 / T25
4x screw bits: H3 / H4 / H5 / H6
1x magnetic ratchet screwdriver
1x magnetic extension piece (90 mm)
Technical specifications
Box content

Manual included
Tool

Electric insulated

Magnetic

Storage type

Plastic case

Soft grip

Standard quality

General warranty

0 MO.
Package
| Package | Qty | Length | Width | Height | Weight | Net weight |
| --- | --- | --- | --- | --- | --- | --- |
| ST | 1 | 16 cm | 14 cm | 3.2 cm | 0.34 kg | 0.34 kg |
| IN | 18 | 35.5 cm | 30 cm | 16 cm | 6.49 kg | 6.49 kg |
| OUT | 18 | 35.5 cm | 30 cm | 16 cm | 6.49 kg | 6.49 kg |
| PAL | 864 | 120 cm | 80 cm | 200 cm | 293.76 kg | 0 kg |
---