KRT503101
Torque wrench set 1/4" 2-20Nm - 21 pcs
KRT503101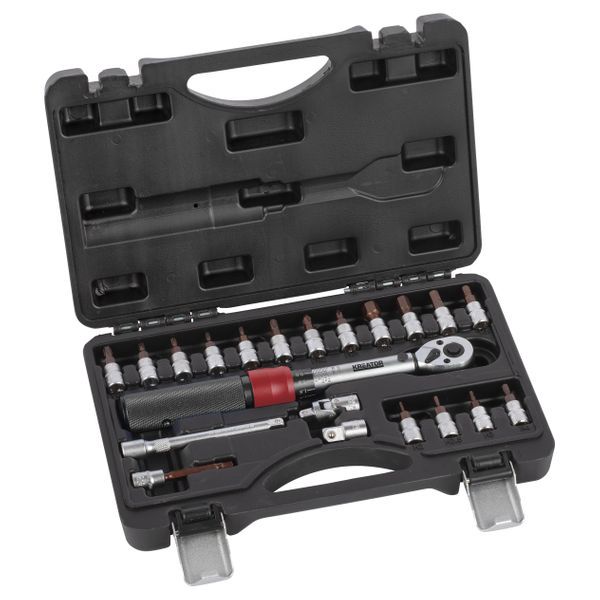 Description
If you are working with sensitive materials, it is important to use the right amount of force when tightening nuts and bolts. Thanks to this Kreator torque wrench set you can work with absolute precision. The torque is easily adjustable (2 – 20 Nm) and the click you hear when tightening, ensures that the nut or bolt is at the correct torsion. This torque wrench has a 1/4" connection and is ideal for fine work, e.g. bikes or engine parts.
The direction can also be adjusted, so the KRT503101 can both tighten and loosen nuts and bolts. The aluminium handle makes the wrench sturdy but lightweight, for added user comfort.
Additionally, this set comes with 16 bits (T10-T15-T20-T25-T30-H2-H2.5-H3-H4-H5-H6-H8-H10-PH1-PH2-PH3), a 100 mm H5 bit, an extension piece, a universal joint for angles, and a 1/4" to 3/8" adaptor.
Everything you need to work with precision comes in a practical storage case to keep all parts together as well as protect the torque wrench, so it stays properly calibrated.
This torque wrench is meant for hobbyists. For professional use, it is recommended to have the wrench calibrated and then have it recalibrated annually.
Technical specifications
Box content

Manual included
Tool

Max. Torque

20 Nm

Storage type

BMC (blow molded case)

Soft grip
Package
| Package | Qty | Length | Width | Height | Weight | Net weight |
| --- | --- | --- | --- | --- | --- | --- |
| IN | 1 | 0 cm | 0 cm | 0 cm | 0 kg | 0 kg |
| OUT | 1 | 0 cm | 0 cm | 0 cm | 0 kg | 0 kg |
| PAL | 1 | 0 cm | 0 cm | 0 cm | 0 kg | 0 kg |
| ST | 1 | 0 cm | 0 cm | 0 cm | 0 kg | 0 kg |
---