KRT720001
Endoscope camera
KRT720001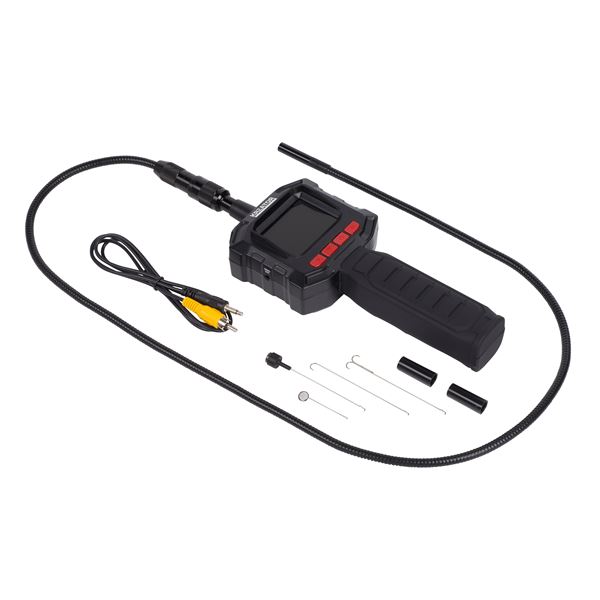 Description
This compact inspection camera allows you to quickly and easily explore dark or hard-to-reach places, such as pipes, drains and shafts. It also allows you to look inside a wall or under a floor, so you don't have to break them open.
The endoscope camera comes with 4 practical accessories: a single and double hook, a mirror and a magnet. Perfect for removing obstacles and picking up otherwise out-of-reach objects.
The flexible camera cable is 1 metre in length and bends around any obstruction. The LED light with adjustable brightness and the LCD screen provide an optimal view of the path you send this water-resistant camera (8mm) on.
Technical specifications
Box content

Manual included
Tool

Battery weight (kg)

Waterproof
Digital Display
Size LCD screen (")

2,31 in

Length camera cable

1 m

Camera size (mm)

8 mm

Rechargeable battery
General warranty

0 MO.

Works with app
Package
| Package | Qty | Length | Width | Height | Weight | Net weight |
| --- | --- | --- | --- | --- | --- | --- |
| IN | 1 | 32.6 cm | 21.2 cm | 7.6 cm | 1.08 kg | 1.08 kg |
| ST | 1 | 32.6 cm | 21.2 cm | 7.6 cm | 1.08 kg | 1.08 kg |
| OUT | 2 | 34.4 cm | 24.6 cm | 17 cm | 2.61 kg | 2.61 kg |
| PAL | 200 | 0 cm | 0 cm | 0 cm | 216.4 kg | 0 kg |
---