KRTGR67027
Flexible garden hose 40m
KRTGR67027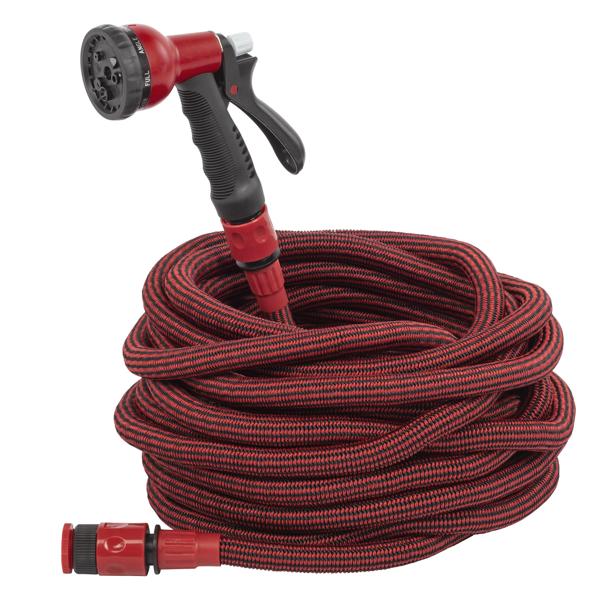 Description
A compact garden hose that is easy to store and still offers enough length to reach all corners of your garden? That is our Kreator flexible garden hose!
Additionally, the hose comes with a practical spray gun with anti-slip handle and no less than 8 different spray patterns.
What can you do with this flexible garden hose?
Because of the water pressure, the hose expands to a length of 40 m, so you can spray even the farthest corners of your garden. After use, it shrinks back to a size that can be conveniently stored away: 13,3 m.
The hose is made of sturdy latex with high fibre density, making it resistant to kinks and more durable even when dragging it over coarse surfaces or around corners.
Be sure to turn off the tap and drain the remaining water to relieve the pressure when the hose is not in use, to guarantee a long lifespan.
Its strong points:
- Expandable: from 13,3 to 40 m, making it easy to store away but still giving you enough length to water your entire garden.
- Sturdy material: made of high-quality latex with high fibre density for added durability.
- Flexible: resistant to kinks.
- Non-slip handle: comfortable to use.
- Lightweight: easy to move anywhere.
- Saves space: The hose comes in a practical storage cylinder that can be hung up.
Its key technical specifications:
- Spray gun with 8 different patterns
- Fibre density: 2500D
- Min. hose length: 13,3 m
- Max. hose length: 40 m
What is included?
1x flexible garden hose
1x spray gun (8 spray patterns)
1x tap connector
2x connectors
1x storage cylinder
Technical specifications
Box content

Manual included
Connector included
Tool

Tank capacity

0 L

Max hydraulic pressure

4 Bar

Adjustable pressure
Inner hose diameter

6 mm

Outer hose diameter

9,5 mm

Adjustable nozzle

Number of spray patterns

8

Spray gun
General warranty

0 MO.
Package
| Package | Qty | Length | Width | Height | Weight | Net weight |
| --- | --- | --- | --- | --- | --- | --- |
| IN | 1 | 0 cm | 0 cm | 0 cm | 0 kg | 0 kg |
| PAL | 1 | 0 cm | 0 cm | 0 cm | 0 kg | 0 kg |
| ST | 1 | 0 cm | 0 cm | 0 cm | 0 kg | 0 kg |
| OUT | 6 | 60 cm | 38 cm | 29 cm | 0 kg | 0 kg |
---