KRTGR6717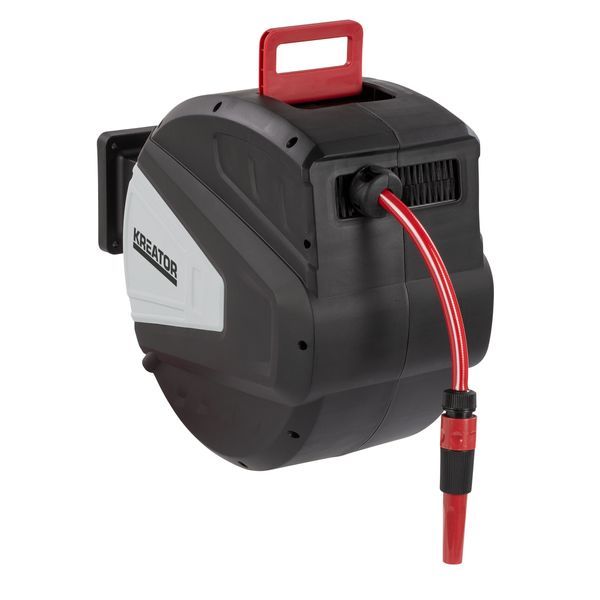 Description
If you want to water your entire garden without a bulky garden hose that is constantly in your way, this Kreator hose reel and garden hose are the garden tools for you.
What can you do with this hose reel?
This hose reel can be easily attached to a wall and connected to a tap. Make sure to mount it at a maximum of 2 meters from the tap, as that is how long the connection hose is. It has a Ø12,7 mm connection.
The hose reel includes a 30 m garden hose, making it ideal for larger gardens.
Its strong points:
Mountable: Use the mounting bracket to attach the hose reel to your wall. That way, the garden hose is always stored away neatly and not constantly in your way.
Compact: During the winter months, you can detach the hose reel from the bracket and store it away easily, thanks to its compact size.
Flexible: The hose reel follows your movements and can rotates 180°, preventing the hose from bending or getting tangled.
Easy to move: Thanks to its low weight and practical handle, you can effortlessly move this hose, for example, to store it away for winter.
Its key technical specifications:
Hose length: 30 m
Connection hose length: 2 m
Hose diameter: 12,7 mm
What is included?
1x KRTGR6717 hose reel with mounting bracket
1x garden hose 30 m
4x wall plugs
4x screws
Technical specifications
Box content

Manual included
Tool

Hose diameter

15 mm

Max hydraulic pressure

8 Bar

Adjustable pressure
Diameter mounting hole

8 mm

Inner hose diameter

11 mm

Outer hose diameter

15 mm

Mounting hole
Aquastop
Hose length

30 m

Number of spray patterns

2

Adapter ring
Valves
Roll up mechanism
General warranty

0 MO.
Package
| Package | Qty | Length | Width | Height | Weight | Net weight |
| --- | --- | --- | --- | --- | --- | --- |
---