KRTGR6816B
Pressure sprayer 16L (backpack)
KRTGR6816B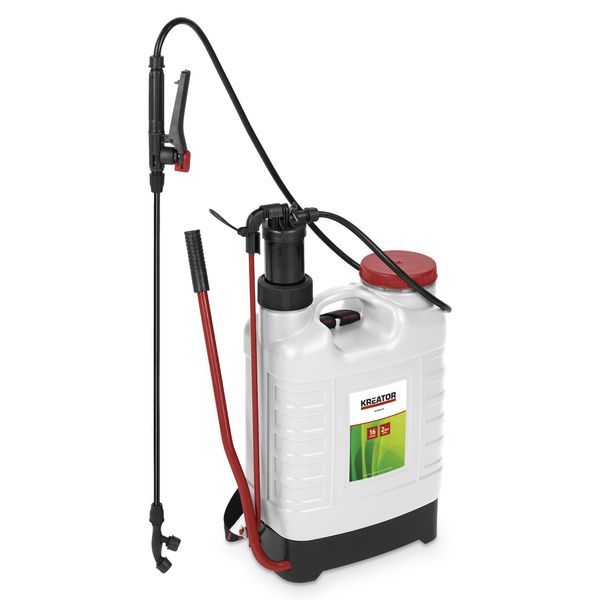 Description
This multi-functional Kreator pressure sprayer is made of a sturdy white plastic and is perfect for spraying plants in mid-size gardens. You can fill it with water, fertilizer or liquid pesticides. Use it to control weeds growing on garden paths and the borders of flowerbeds and you can carry it on your back for more mobility.
Fill the 16 L reservoir with water or spraying agent, then pressurize the tank by pumping the handle 6 to 8 times. Aim the nozzle on your plants, press the handle on the lance and done! You're ready to take on your entire garden.
The pressure sprayer comes with an anti-clog filter, wear-resistant seals, rings, and 4 different attachments. You have a choice between a fan nozzle, a conical and a dual conical nozzle, and a 4-hole nozzle.
Technical specifications
Box content

Manual included
Carrying belt included
Angle nozzle included
Number of nozzle clean-out tool included
0 #
Number of Spray nozzles included
4
Adjustable nozzle included
Tool

Tank capacity

16 L

Max. pressure

2 bar

Length nozzle

0,6 m

Vertical spray pattern
Horizontal spray pattern
Round spray pattern
Adjustable pattern width
Adjustable pressure
Water level indicator
Adjustable nozzle
Hose length

1.16 m

Safety valve
Number of spray patterns

4

Built in Filter
Package
| Package | Qty | Length | Width | Height | Weight | Net weight |
| --- | --- | --- | --- | --- | --- | --- |
| IN | 1 | 51.8 cm | 20.6 cm | 36.2 cm | 3.16 kg | 3.16 kg |
| OUT | 1 | 51.8 cm | 20.6 cm | 36.2 cm | 3.16 kg | 3.16 kg |
| ST | 1 | 51.8 cm | 20.6 cm | 36.2 cm | 3.16 kg | 3.16 kg |
| PAL | 35 | 0 cm | 0 cm | 0 cm | 110.6 kg | 0 kg |
---