POWAIR0019
Pneumatic chisel 216L/min 3500bpm
POWAIR0019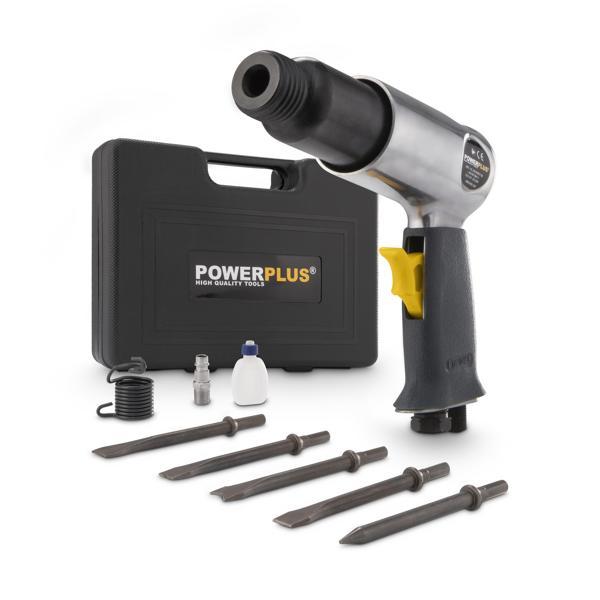 Description
This pneumatic Powerplus Air chisel set can be used in combination with a compressor to lighten the work and make it more efficient.
What can you do with this pneumatic chisel?
It's ideal for general chiselling and demolition. The tool comes in a practical storage case, along with 5 chisels.
Its strong points:
Powerful: At an air pressure of 6,3 bar, this sturdy chisel can reach up to 3500 strks/min. Combined with 4 J of impact energy, it's able to remove material at a high rate, significantly speeding up your demolition work. Use it to chisel through brick, concrete and stone.
Spindle lock: The spindle lock temporarily blocks the chuck, so switching between accessories is quick and easy.
Storage case: The pneumatic chisel and its accessories come in a practical storage case, which makes for easy transport and storage.
Tips & Tricks:
Always place the chisel on the surface at a 90° angle. If you hold it at a different angle, the machine might slip, causing injuries to you or damaging the machine.
Wear the right protective clothing when working with a chisel. Read the machine's label or manual to see which gear you'll need. The Kreator product line offers an extensive range of safety gear e.g., hearing protection, dust masks, safety goggles and more.
To prevent accidents caused by (muscle) fatigue, make sure to take plenty of breaks when working with a pneumatic chisel.
Its key technical specifications:
Air debit: 216 l/min
Air pressure: 6,3 bar
Impact rate: 3500 strks/min
Impact energy: 4 J
Connection type: Hex 6 mm
Technical specifications
Box content

Manual included
Tool

Sound Power Level (LwA)

95 dB(A)

Air Pressure

6,3 bar

Air debit (capacity)

216 l/min

Impact energy (Joule)

4 J

Spindle lock
Storage type

BMC (blow molded case)

Soft grip
Quick release - toolless disassembly
Impact rate max

3500 strks/min

General warranty

0 MO.
Package
| Package | Qty | Length | Width | Height | Weight | Net weight |
| --- | --- | --- | --- | --- | --- | --- |
| IN | 1 | 31.6 cm | 7.8 cm | 21.2 cm | 3 kg | 3 kg |
| ST | 1 | 31.6 cm | 7.8 cm | 21.2 cm | 3 kg | 3 kg |
| OUT | 5 | 39.2 cm | 33.2 cm | 26 cm | 15.58 kg | 15.58 kg |
| PAL | 180 | 1200 cm | 800 cm | 2000 cm | 540.36 kg | 0 kg |
---