POWAIR0802
Pneumatic drill/screwdriver
POWAIR0802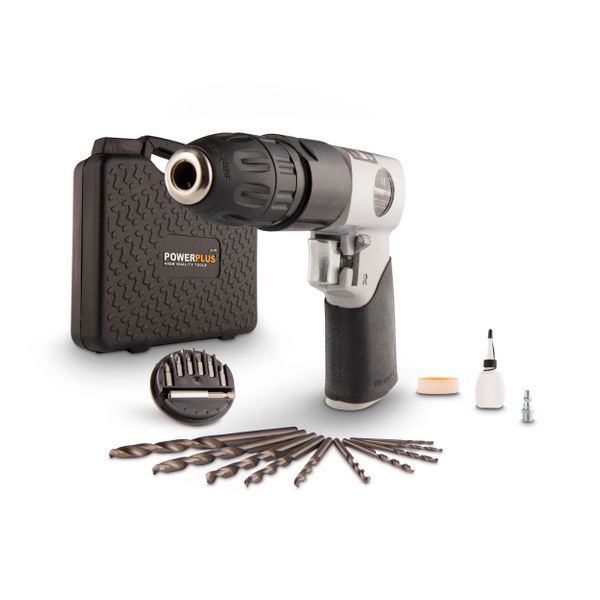 Description
This pneumatic Powerplus combination drill/screwdriver is perfect for all those lightweight projects in and around the house that require screws or drilling.
What can you do with this drill/screwdriver?
This pneumatic impact drill is a powerful allrounder that can be used for both drilling and driving screws. Use it to effortlessly drill up to 10 mm in wood and 10 mm in steel.
Its strong points:
Fasten/loosen: Use the practical left/right switch to either fasten or loosen screws.
Keyless chuck: Switching between drill bits or screwdriver bits is fast and you won't need any extra tools, thanks to the keyless chuck.
Quick stop: Should anything go wrong, the quick stop immediately blocks the drill chuck to ensure safe operating at all times.
Storage case: The tool comes in a practical storage case, which makes for easy transport and storage.
Soft grip: The soft material of the soft grip handle provides added grip and user comfort, so you can work comfortably with this drill/screwdriver even for longer periods of time.
Tips & Tricks:
Don't wear your hair down and don't wear clothes that are too loose. They can get tangled in the tool and cause serious injuries.
While working with a drill/screwdriver, it's advised to wear adequate protection. Which protection you'll need, can be found on the tool's label and in the manual. The Kreator product range offers plenty of protective wear like hearing protection, masks, safety goggles and much more.
Its key technical specifications:
Air pressure: 6,2 bar
Air flow: 113 l/min
Drill capacity wood: 10 mm
Drill capacity steel: 10 mm
Drill capacity stone: 6 mm
Max. torque: 24 Nm
Air inlet: Male Euro Male, Ø6 mm
Connection type: Chuck 10mm keyless
Technical specifications
Box content

Manual included
Magnetic drill bit holder included
Auxiliary handle included
Wrist strap included
Double head screwbits included
Depth stop included
Chuck key included
Tool

Min. Drill bit diameter

0,8 mm

Air Pressure

6,2 bar

Max. Drill bit diameter

10 mm

Air debit (capacity)

113 l/min

Max. Torque

24 Nm

Drill capacity stone

6 mm

Keyless chuck
Auto locking chuck
Key chuck
Quick stop
Adjustable torque
Number of speed settings

1

Storage type

BMC (blow molded case)

Soft grip
Direction of rotation

[ "Left", "Right" ]

Built-in bitholder
Drill function
Screw function
Adjustable speed
Quick release - toolless disassembly
Drill capacity steel

10 mm

Drill capacity wood

10 mm

General warranty

24 MO.
Package
| Package | Qty | Length | Width | Height | Weight | Net weight |
| --- | --- | --- | --- | --- | --- | --- |
| IN | 1 | 26 cm | 24 cm | 5.5 cm | 1.86 kg | 1.86 kg |
| OUT | 1 | 26 cm | 24 cm | 5.5 cm | 1.86 kg | 1.86 kg |
| ST | 1 | 26 cm | 24 cm | 5.5 cm | 1.86 kg | 1.86 kg |
| PAL | 240 | 120 cm | 80 cm | 200 cm | 446.4 kg | 0 kg |
---