POWDP15100
Drill - screwdriver 20V - excl. battery and charger
POWDP15100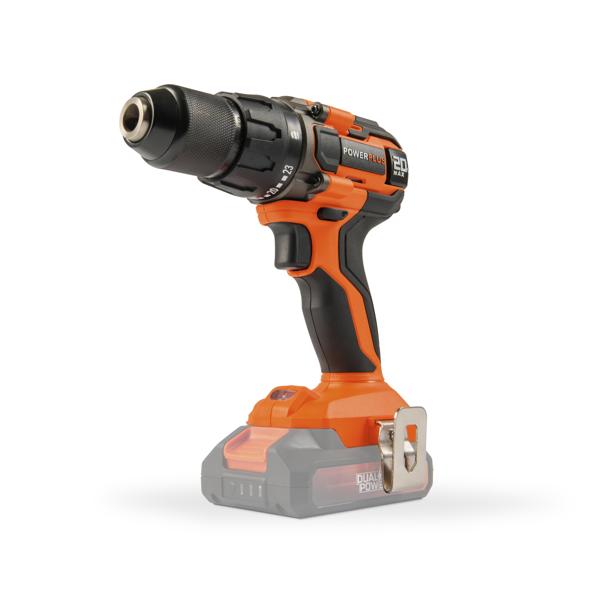 Brand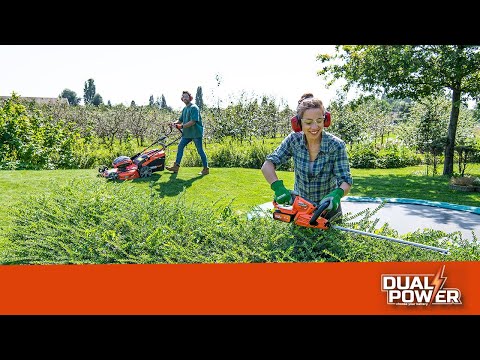 Description
This cordless 20 V Dual Power combination drill/screwdriver is perfect for all those heavy-duty projects in and around the house that require screws or drilling.
What can you do with this drill/screwdriver?
This cordless impact drill is a powerful allrounder that can be used for both drilling and driving screws. Use it to effortlessly drill up to Ø25 mm in wood and Ø10 mm in steel.
The battery and charger are not included. They are sold separately and are compatible with the entire Dual Power range.
Its strong points:
Versatile: Easily adapt the tool to any project using the 24 torque settings, which includes 1 setting for drilling. Choose between 2 different speed settings to adjust the rotational speed to your project. The highest speed setting (0 – 1 800 min-1) is for drilling and the lower speed (0 – 450 min-1) for driving screws.
Fasten/loosen: Use the practical left/right switch to either fasten or loosen screws. You can drill up to Ø25 mm in wood and Ø10 mm in steel.
Safe: Should anything go wrong, the quick stop immediately blocks the drill chuck to ensure safe operating at all times.
Comfortable: The practical worklight provides a clear view of your workpiece at all times, while the softgrip handle provides added user comfort. Changing drills is a breeze thanks to the auto-locking chuck.
Practical: The drill/screwdriver is battery-operated, so it can be used anywhere. It offers full mobility for each project.
Its key technical specifications:
Power: 20 V
Rotational speed: 0 - 450 min-1 / 0 - 1 800 min-1
Max. torque: 50 Nm
Number of torque settings: 23 + 1 drill setting
What is included?
1x drill - screwdriver
1x belt clip
1x screw
1x manual
Technical specifications
Box content

Magnetic bit holder
Not applicable
Manual included
Chargers - charge cable included
Magnetic drill bit holder included
Auxiliary handle included
Wrist strap included
Double head screwbits included
Depth stop included
Chuck key included
Number of Accessories included
0
Tool

Rated Voltage DC (Un) max

20 V

Sound Power Level (LwA)

87 dB(A)

Max. Drill bit diameter

13 mm

Max. Torque

50 Nm

Drill capacity stone

10 mm

Keyless chuck
Auto locking chuck
Key chuck
Batteries necessary (amount)

1

2nd Batteries included (amount)

0

Torque positions

23

Quick stop
Electronic speed control

Not applicable

Overload protection
Adjustable torque
Spindle lock

Not specified

Number of speed settings

2

Storage type

n/a

Soft grip
Battery level indicator

Not applicable

Soft start motor
Direction of rotation

[ "Left", "Right" ]

Built-in bitholder
Drill function
Screw function
Adjustable speed
Quick release - toolless disassembly
Power indicator
Rotation speed (n) min

0 min-1

Rotation speed (n) max

450 min-1

Drill capacity steel

10 mm

Drill capacity wood

25 mm

Rotation speed (n) 2 max

1800 min-1

Rotation speed (n) 2 min

0 min-1

General warranty

36 MO.
Package
| Package | Qty | Length | Width | Height | Weight | Net weight |
| --- | --- | --- | --- | --- | --- | --- |
| ST | 1 | 8.8 cm | 21 cm | 21.4 cm | 1.56 kg | 1.56 kg |
| IN | 5 | 44 cm | 23 cm | 22 cm | 1.56 kg | 8.2 kg |
| OUT | 5 | 44 cm | 23 cm | 22 cm | 8.2 kg | 8.2 kg |
| PAL | 245 | 0 cm | 0 cm | 0 cm | 381.22 kg | 0 kg |
---