POWDP15220
Impact drill - screwdriver brushl. 20V 65Nm - excl. battery and charger
POWDP15220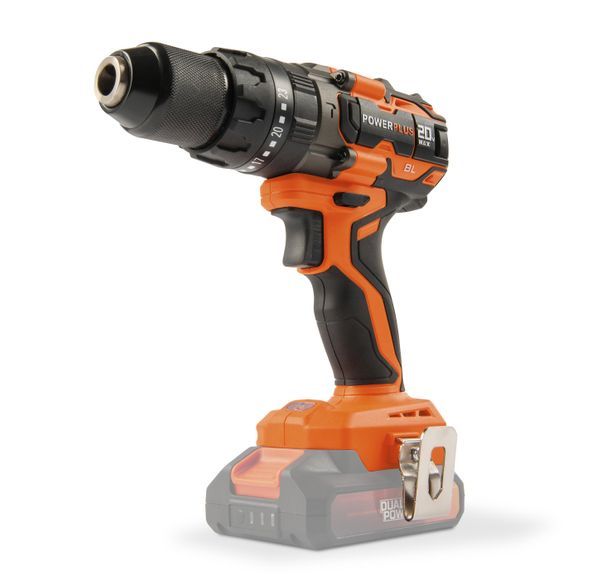 Description
This Dual Power 20 V impact drill is ideal for driving screws, drilling and impact drilling in wood, metal, plastic and masonry. It has a powerful and durable brushless motor, a torque of 65 Nm and 26 torque settings. The motor requires little maintenance, produces less vibrations and has a longer lifespan.
The impact drill has a drilling capacity of 30 mm in wood and 10 mm in concrete and steel. The impact function has a low setting with 8 000 strokes per minute and a high setting with a whopping 32 000 strokes per minute. While using the screw function, you can choose the direction of rotation, so you can also remove old screws with ease. Thanks to the two speed settings of 500 min-1 and 2 000 min-1, you can get any job done.
With the auto locking chuck, switching bits can be done swiftly and without using any tools. Thanks to the integrated LED working light, you are able to use the impact drill even in poorly lit areas. The soft grip provides you with the necessary comfort while working.
Separate battery and charger
The battery and charger are not included. They are sold separately and are compatible with the whole Dual Power range.
Which Dual Power batter is compatible?
This 20 V impact drill is compatible with both the 20 V and 2x20 V Dual Power batteries. The use of a 2x20 V battery ensures an even longer battery run time, compared to the use of a 20 V version.
What is included?
1x impact drill - screwdriver
1x belt clip
1x screw
1x manual
Technical specifications
Box content

Manual included
Chargers - charge cable included
Magnetic drill bit holder included
Auxiliary handle included
Wrist strap included
Double head screwbits included
Depth stop included
Chuck key included
Grease tube included
SDS-Bitholder included
Tool

Rated Voltage DC (Un) max

20 V

Min. Drill bit diameter

13 mm

Sound Power Level (LwA)

87 dB(A)

Max. Drill bit diameter

13 mm

Max. Torque

65 Nm

Drill capacity stone

10 mm

Keyless chuck
Auto locking chuck
Key chuck
Batteries necessary (amount)

1

Torque positions

23

Quick stop
Electronic speed control

Not applicable

Safety button
Overload protection
Adjustable torque
Spindle lock
Number of speed settings

2

Storage type

n/a

Soft grip
Battery level indicator

Not applicable

Worklight
Soft start motor
Direction of rotation

[ "Left", "Right" ]

Impact mode
Drill function
Screw function
Adjustable speed
Quick release - toolless disassembly
Power indicator
Rotation speed (n) min

0 min-1

Rotation speed (n) max

500 min-1

Drill capacity steel

10 mm

Drill capacity wood

30 mm

Impact rate max

32000 strks/min

Drill capacity concrete

10 mm

Impact rate min

8000 strks/min

Rotation speed (n) 2 max

2000 min-1

Rotation speed (n) 2 min

0 min-1

General warranty

36 MO.
Package
| Package | Qty | Length | Width | Height | Weight | Net weight |
| --- | --- | --- | --- | --- | --- | --- |
| ST | 1 | 21.5 cm | 8 cm | 22 cm | 1.7 kg | 1.7 kg |
| IN | 5 | 21.5 cm | 8 cm | 22 cm | 1.7 kg | 1.7 kg |
| OUT | 5 | 44 cm | 24 cm | 23 cm | 8.9 kg | 8.9 kg |
| PAL | 245 | 0 cm | 0 cm | 0 cm | 416.5 kg | 0 kg |
---