POWDP15301
Drill - screwdriver 20V - incl. 2 batteries 20V 2.0Ah and charger - 78 acc.
POWDP15301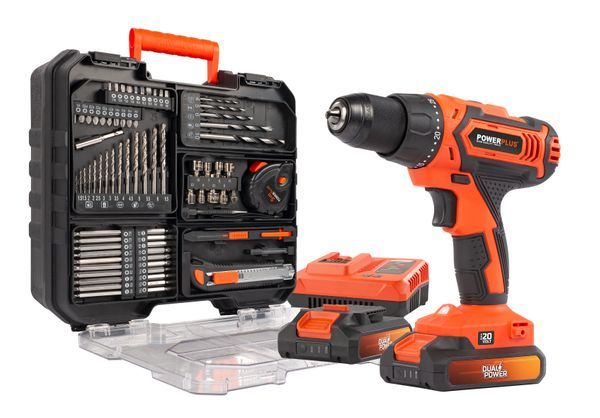 Brand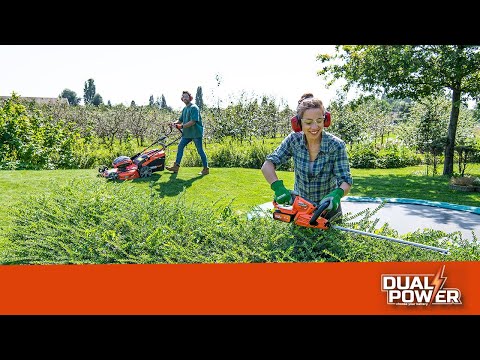 Description
This battery-powered Dual Power combination drill and screwdriver is lightweight but powerful and easy to use. Apart from a 20 V drill/screwdriver, this set also contains 2 batteries, a matching charger, and no less than 78 accessories, including numerous drill and screwbits. This set gives you everything you need to get to work immediately and thanks to the 2 batteries, you can do so without interruption. While using one battery, you can charge the other one.
What can you do with this drill/screwdriver?
You can use this combination drill and screwdriver for both drilling and driving screws, to the left or right. Its drill capacity in steel is 30 mm and 13 mm in wood.
The batteries and charger are included. Both batteries are compatible with all 20 V tools from our Dual Power line, while the charger can be used on both our 20 V and 2x20 V batteries.
Its strong points:
Powerful: With a torque of up to 40 Nm, this combination drill and screwdriver offers lots of power. Use it to effortlessly drill through or screw into hardwood, e.g. oak.
Versatile: You can choose between 2 speed settings and 25 torque positions, so you can use the correct speed and torque for each project. In addition, you can use it for both drilling and driving screws, to the left or right.
Efficient: Thanks to the auto-locking keyless chuck and magnetic bit holder, you don't have to lose any time switching between bits.
Practical: The drill/screwdriver is also equipped with a work light, so you can easily work in dimly lit places.
Comfortable: The soft grip handle drastically increases your working comfort.
Its key technical specifications:
Rated power: 20 V
Rotational speed: 0 min-1 – 400 min-1 & 0 min-1 – 1550 min-1
Max. drill capacity steel: 30 mm
Max. drill capacity wood: 13 mm
Max. torque: 40 Nm
Number of torque positions: 25
Connection type: Chuck 13mm keyless
Capacity batteries: 2000 mAh – 20 V
What is included?
1x drill - screwdriver
2x battery
1x battery charger
1x storage case
1x cutter
3x spare blade
1x refillable carpenter's pencil
3x lead core
1x measuring tape - 5m
8x socket - Ø 6/7/8/9/10/11/12/13 mm
1x countersink drill bit
1x centre punch
5x drill bit - wood - Ø 4/5/6/8/10mm
14x drill bit - HSS metal - Ø 1.5/1.5/2/2/2.5/3/3/3.5/4/4.5/5/5.5/6/6.5mm
20x bit - 25mm - SL 4/5/6, PH 1/2/2/3, PZ 1/2/2/2/3, T 15/20/25/30, H 3/4/5/6
10x bit - 50mm - SL 4/5/6, PZ 1/2/3, T 15/20/25/30
10x bit - 75mm - SL 4/5/6, PZ 1/2/3, T 15/20/25/30
1x bit holder
1x manual
Technical specifications
Box content

Magnetic bit holder
Not specified
Manual included
Chargers - charge cable included
Magnetic drill bit holder included
Auxiliary handle included
Wrist strap included
Double head screwbits included
Depth stop included
Chuck key included
Number of Accessories included
78
Tool

Rated Voltage DC (Un) max

20 V

Min. Drill bit diameter

1,5 mm

Max. Drill bit diameter

13 mm

Battery Capacity

2000 mAh

Max. Torque

40 Nm

Drill capacity stone

0 mm

Rated current charger

4 A

Keyless chuck
Auto locking chuck
Key chuck
Batteries necessary (amount)

1

Torque positions

25

Quick stop
Average charging time ACDC

30 min

Electronic speed control
Overload protection
Adjustable torque
Spindle lock
Number of speed settings

2

Storage type

n/a

Soft grip
Battery weight (kg)

0.374

Battery weight (g)

374 g

Battery charger status indicator
Battery level indicator
Quick charger

Not applicable

Soft start motor
Direction of rotation

[ "Left", "Right" ]

Built-in bitholder
Drill function
Screw function
Adjustable speed
Quick release - toolless disassembly
Power indicator
Battery 2 weight (g)

378 g

Rotation speed (n) min

0 min-1

Rotation speed (n) max

400 min-1

Drill capacity steel

13 mm

Drill capacity wood

30 mm

Rotation speed (n) 2 max

1550 min-1

Rotation speed (n) 2 min

0 min-1

Rechargeable battery
General warranty

36 MO.
Package
| Package | Qty | Length | Width | Height | Weight | Net weight |
| --- | --- | --- | --- | --- | --- | --- |
| IN | 1 | 0 cm | 0 cm | 0 cm | 0 kg | 0 kg |
| PAL | 1 | 0 cm | 0 cm | 0 cm | 0 kg | 0 kg |
| ST | 1 | 0 cm | 0 cm | 0 cm | 0 kg | 0 kg |
| OUT | 2 | 35.5 cm | 30.5 cm | 34.5 cm | 12.7 kg | 0 kg |
---