POWDP15680
Hammer drill brushless 40V - excl. battery and charger - 5 acc.
POWDP15680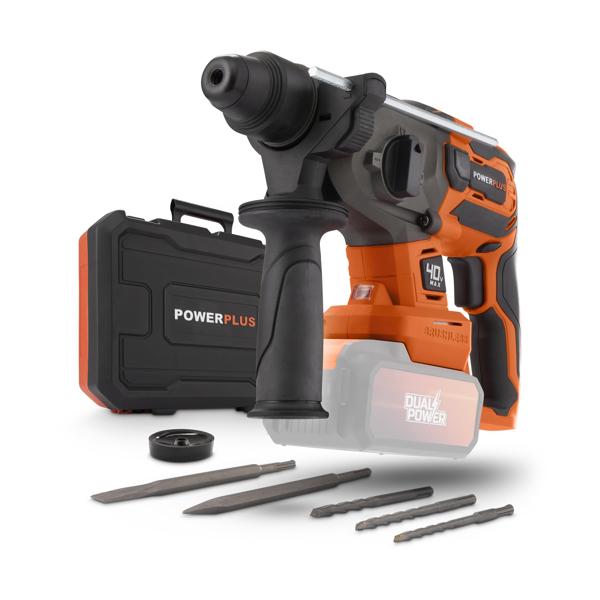 Description
This cordless 40 V Dual Power hammer drill offers 4 different functions: drilling, hammer drilling, chiseling and rotary chiseling. Thanks to its impact force of 3 joule, this hammer drill is suitable for heavier drilling- and demolishing chores in stone, concrete and brick.
The hammer drill is equipped with a durable brushless motor. This motor requires little maintenance and has a long lifespan. It also prolongs the battery runtime with up to 50%, compared to regular brushed motors. The powerful motor provides up to 4 800 impacts per minute.
The Ø20 mm SDS-plus type chuck is compatible with all common SDS-plus type drills and chisels. A selector switch allows to switch in between the hammer drill's functions. The switch's lock button prevents the operation mode from changing involuntarily. It is also equipped with a depth stop, which provides the necessary precision.
The hammer drill's LED work light provides plenty of light to work in poorly lit areas. To guarantee the user's safety, a slipper clutch has been implemented. When drills or chisels get blocked during use, the slipper clutch stops the engine to prevent damage or injury. The hammer drill is also equipped with an auxiliary handle. Its position can be adjusted for a perfect grip an control in all situations.
Including 3 SDS-plus type drills, 1 SDS-plus type flat chisel, 1 SDS-plus type pointed chisel and 1 dust cap.
Separate battery and charger
The battery and charger are not included. They are sold separately and are compatible with the whole Dual Power range.
Which Dual Power battery is compatible?
This 40 V hammer drill is only compatible with the 2x20 V Dual Power batteries.
What is included?
1x hammer drill
1x auxiliary handle (mounted)
1x chisel - SDS plus type - flat - 22x250mm
1x chisel - SDS plus type - pointed - 250mm
1x depth stop
1x drill bit - SDS plus type - Ø 10x150mm
1x drill bit - SDS plus type - Ø 12x150mm
1x drill bit - SDS plus type - Ø 8x150mm
1x dust cap
1x storage case
1x manual
Technical specifications
Box content

Manual included
Chargers - charge cable included
Chisel included
2
Auxiliary handle included
key chuck with SDS adapter included
Number of Flat Chisel included
1 #
Number of Pointed Chisel included
1 #
Dust cap included
Grease pot included
Number of Spanner tools included
0 #
Depth stop included
Chuck key included
Grease tube included
SDS-Bitholder included
Number of Drill bits included
3
Tool

Rated Voltage DC (Un) max

40 V

Min. Drill bit diameter

20 mm

Sound Power Level (LwA)

101 dB(A)

Max. Drill bit diameter

8 mm

Max. Torque

0 Nm

Drill capacity stone

20 mm

Keyless chuck

Not applicable

Auto locking chuck

Not applicable

Key chuck
Batteries necessary (amount)

1

2nd Batteries included (amount)

0

Electronic speed control

Not applicable

Vibration reduction system
Overload protection
Adjustable torque
Impact energy (Joule)

3 J

Number of speed settings

1

Storage type

BMC (blow molded case)

Soft grip
Battery level indicator

Not applicable

Worklight
Soft start motor
Direction of rotation

[ "Left", "Right" ]

Drill function
Adjustable speed
Full metal body
Quick release - toolless disassembly
Power indicator
Hammerdrill function
Rotation speed (n) min

0 min-1

Rotation speed (n) max

1050 min-1

Drill capacity steel

10 mm

Drill capacity wood

25 mm

Impact rate max

4800 strks/min

Drill capacity concrete

26 mm

Impact rate min

0 strks/min

Chisel function
General warranty

36 MO.
Package
| Package | Qty | Length | Width | Height | Weight | Net weight |
| --- | --- | --- | --- | --- | --- | --- |
| IN | 1 | 40 cm | 39 cm | 47 cm | 5.9 kg | 18.3 kg |
| ST | 1 | 45.5 cm | 13 cm | 37 cm | 5.9 kg | 5.9 kg |
| OUT | 3 | 40 cm | 39 cm | 47 cm | 18.3 kg | 18.3 kg |
| PAL | 54 | 0 cm | 0 cm | 0 cm | 318.6 kg | 0 kg |
---