POWDP25400
Mini plunge saw 20V Ø 89mm - excl. battery and charger - 6 acc.
POWDP25400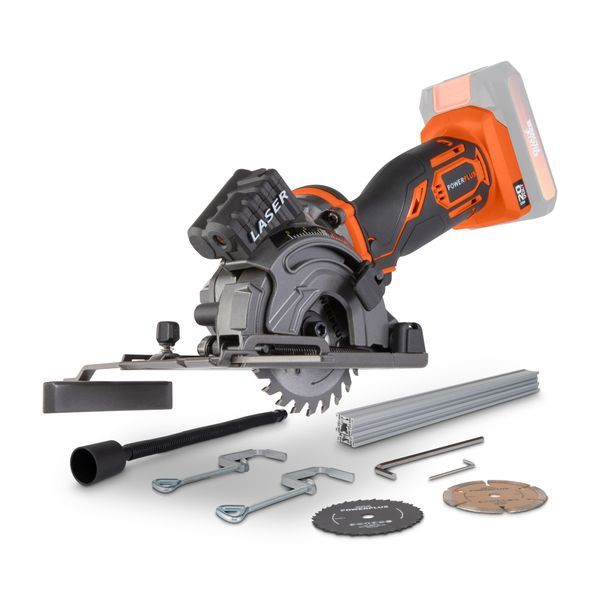 Brand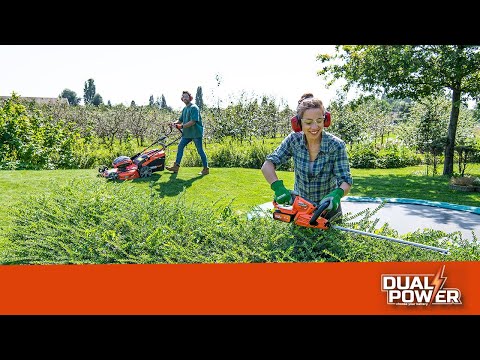 Description
This 20 V mini plunge saw from the Dual Power line is ideal for cutting in OSB and chipboards. The saw is equipped with a Ø89 mm saw blade, providing a maximum cutting depth of 28 mm. This is why the saw is suitable for making cabinets, walk-in wardrobes and more. Additionally, this cordless circular saw can also be used for cutting boards and laminate.
Depending on the mounted saw blade, this Dual Power saw is also suitable for stone tiles and soft metal sheets with a maximum thickness of 3 mm. The three-part guide rail ensures perfectly straight plunge cuts. It can be secured with clamps to prevent accidental shifting.
Precise parallel cuts are possible thanks to the parallel guide. Also included is a laser that clearly indicates the cutting line. The patented three-part acceleration module makes a noticeable difference as it helps the tool move more smoothly and less force is required when sawing.
The saw foot ensures the necessary safety. When the saw is put down, the foot comes down automatically and the saw blade is pulled into the safety guard. That way, the saw blade can never accidentally touch the surface. Moreover, the saw can't be activated accidentally thanks to the double safety switch.
Separate battery and charger
The battery and charger are not included. They are sold separately and are suitable for the entire Dual Power range.
Which Dual Power battery to use?
This 20 V mini plunge saw is compatible with both a 20 V and a 2x20 V Dual Power battery. Using a 2x20 V battery provides a considerably longer working time compared to the regular 20 V version.
What is included?
1x plunge saw
1x side guide
2x hex key
1x vacuum adaptor
2x clamp
3x guide rail
2x guide rail connector (stored in guide rail)
1x saw blade - wood - 24T (mounted)
1x saw blade - multi use - 44T
1x diamond cutting disc - wet - Ø 89mm
1x manual
Technical specifications
Box content

Manual included
Chargers - charge cable included
Dust Bag/box included
Dust adapter for vacuum cleaner included
Side guide included
Number of Saw blades for aluminium included
1
Number of Saw blades multi-use included
1
Number of Plunge cut blades included
3
Number of Wrench(es) included
0 #
Number of Clamps included
2 #
Number of Split tracks included
3 #
Number of Hex keys included
2 #
Number of Vices/Clamps included
2
Tool

Rated Voltage DC (Un) max

20 V

Sound Power Level (LwA)

101 dB(A)

Batteries necessary (amount)

1

2nd Batteries included (amount)

0

Switch dustproof
Electronic speed control

Not specified

Adjustable Base
Safety button
Overload protection
Bore size

10 mm

Spindle lock
number of teeth/blades

24

Disc diameter

89 mm

Storage type

n/a

Soft grip
Safety guard
Battery level indicator

Not applicable

Dust extraction airflow
Targeting laser
Soft start motor
Quick release - toolless disassembly
Power indicator

Not applicable

Rotation speed (n) min

3150 min-1

Rotation speed (n) max

3150 min-1

General warranty

36 MO.
Package
| Package | Qty | Length | Width | Height | Weight | Net weight |
| --- | --- | --- | --- | --- | --- | --- |
| IN | 1 | 44.8 cm | 34.4 cm | 32.3 cm | 3.31 kg | 13.95 kg |
| ST | 1 | 43.6 cm | 16.4 cm | 14.4 cm | 4 kg | 3.31 kg |
| OUT | 4 | 44.8 cm | 34.4 cm | 32.2 cm | 13.25 kg | 13.25 kg |
| PAL | 100 | 0 cm | 0 cm | 0 cm | 331.2 kg | 0 kg |
---