POWDP77100
Biscuit joiner 40V - excl. battery and charger - 1 acc.
POWDP77100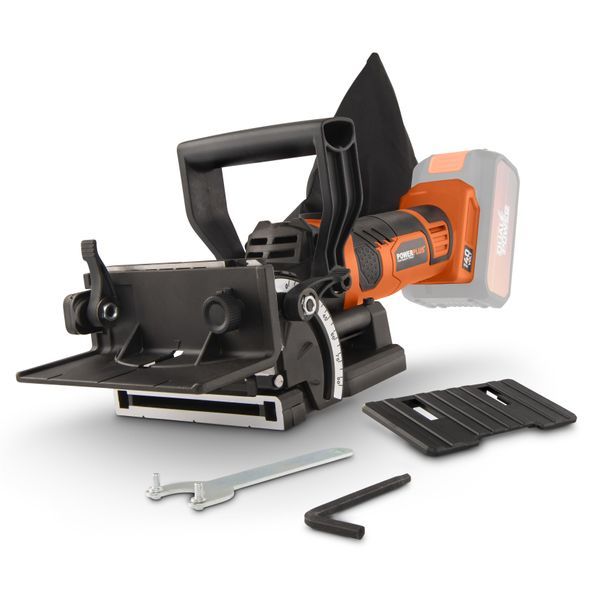 Description
This 40 V cordless biscuit joiner from Dual Power is ideal for making blind wood joints. This is why this tool is suitable for do-it-yourself enthusiasts who want to make wood joints for kitchen cabinets, walk-in wardrobes and other pieces of furniture. 
The cutting depth can be set to 6 different positions between 8 and 20 mm. The cutting height is continuously adjustable up to 40 mm. In addition, the angle is also easy to adjust, thus allowing to adapt this biscuit joiner to any task.
The powerful 40 V motor provides sufficient power to work even on harder wood. Accidents are excluded because the saw blade only comes out of the tool when it is positioned on a workpiece and sufficient pressure is applied.
The soft-grip handle and the additional D-shaped handle ensure sufficient grip and control during cutting. The tool is also equipped with a vacuum cleaner connection. This guarantees a good view of the workpiece and a healthy working environment.
Separate battery and charger
The battery and charger are not included. They are sold separately and are suitable for the entire Dual Power range.
Which Dual Power battery to use?
This 40 V biscuit joiner is only compatible with a 2 x 20 V Dual Power battery.
What is included?
1x biscuit jointer
1x assembly material set
1x auxiliary handle
1x dust collection bag
1x hex key
1x plate protection
1x saw blade - wood - 6T (mounted)
1x spanner
1x manual
Technical specifications
Box content

Manual included
Chargers - charge cable included
Dust adapter for vacuum cleaner included
Number of Saw blades for aluminium included
0
Number of Saw blades multi-use included
0
Number of Wrench(es) included
1 #
Tool

Rated Voltage DC (Un) max

40 V

Vacuum adaptor inner diameter

22.0 mm

Sound Power Level (LwA)

91 dB(A)

Max. cutting depth (mm)

20 mm

Cutting height min

0 mm

Cutting height max

40 mm

Batteries necessary (amount)

1

2nd Batteries included (amount)

0

Switch dustproof
Electronic speed control
Safety button
Overload protection
Bore size

22 mm

Spindle lock
number of teeth/blades

6

Disc diameter

100 mm

Tooth spacing/pitch

48 mm

Teeth total amount

6

Teeth Angle

8 °

Kerf

3.80 mm

Storage type

n/a

Soft grip
Battery level indicator
Dust extraction airflow
Worklight
Soft start motor
Power indicator
Blade thickness

2,85 mm

Rotation speed (n) min

6500 min-1

Rotation speed (n) max

6500 min-1

General warranty

36 MO.

Adjustable cutting depth
Package
| Package | Qty | Length | Width | Height | Weight | Net weight |
| --- | --- | --- | --- | --- | --- | --- |
| IN | 1 | 0 cm | 0 cm | 0 cm | 0 kg | 0 kg |
| PAL | 1 | 0 cm | 0 cm | 0 cm | 0 kg | 0 kg |
| ST | 1 | 36 cm | 17 cm | 12 cm | 0 kg | 2 kg |
| OUT | 4 | 38 cm | 36 cm | 26 cm | 0 kg | 9 kg |
---