POWDPG75270
Leaf blower/vacuum brushless 40V - excl. battery and charger
POWDPG75270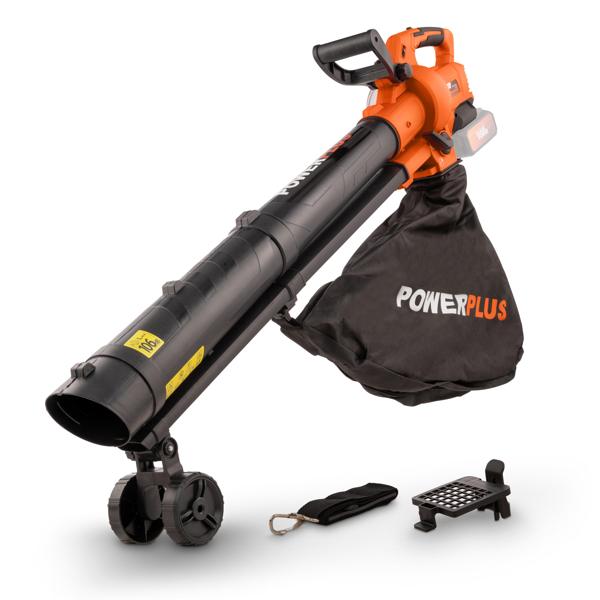 Unboxing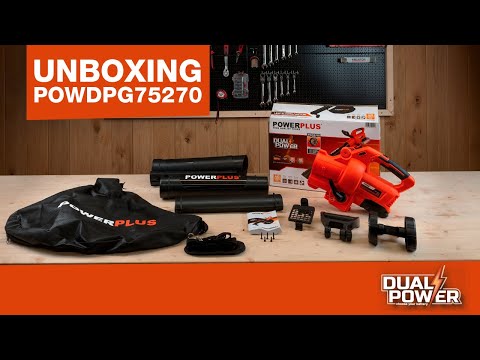 Description
Use this cordless 40 V leaf blower to get rid of all that garden waste in no time.
What can you do with this leaf blower?
Time to rid your lawn of all that garden waste? Use this battery-powered leaf blower from the Dual Power product range to clear it in an instant. Air blows through the air tube at a speed of 210 km/h. Before you know it, you'll get to enjoy your tidy garden again.
The battery and charger are not included. They are sold separately and are compatible with the entire Dual Power range.
Its strong points:
Powerful: Clearing leaves is quick and easy thanks to the powerful 40 V motor of this battery-powered leaf blower.
Efficient: With a maximum air speed of 210 km/h and air volume of 9,5 m³/min, you can get rid of any loose leaves in the most efficient way.
Versatile: Apart from blowing away leaves, this leaf blower can also vacuum them up into its large collection bag. Afterwards, the built-in mulcher can turn the collected garden debris into mulch. It will decrease in volume with a ratio of 15:1, allowing the 45 L collection bag to hold even more debris.
Brushless: The brushless motor is faster, more powerful and offers a 10 x longer lifespan compared to similar brushed motors because they use electric current more efficiently.
Practical: The robust support wheels carry a large part of the POWDPG75270's weight. It prevents your back from getting strained, allows for easy movement and you won't experience much inconvenience, even for longer periods of time.
Comfortable: The leaf blower is comfortable to use thanks to the soft grip handle.
Eco-friendly: No bothersome cables that get in the way, and no CO2 emissions. Additionally, the battery is compatible with different tools within its product range, so you don't need separate batteries for each tool. That is what makes this leaf blower the more ecological choice.
Compact: When you're done, the POWDPG75270's three-part tube can be disassembled easily to allow for compact storage.
Flexible: The leaf blower operates on a battery, so it can be used anywhere. It offers full mobility for each project.
Its key technical specifications:
Power: 40 V
Motor type: Brushless
Function(s): leaf blowing, vacuuming, shredding
Max. air speed: 210 km/h
Max. air volume: 9,5 m³/min
Shredding ratio: 15:1
Tube type: 3 pieces
Soft grip
What is included?
1x leaf blower - vacuum
1x collection box - bag
1x adaptor grid
3x air tube
1x shoulder strap
1x auxiliary handle
1x wheel bracket with 2 wheels
1x assembly material set
1x manual
Technical specifications
Box content

Manual included
Chargers - charge cable included
Number of Screwdrivers included
0 #
Collect box-bag included
Tool

Rated Voltage DC (Un) max

40 V

Shredding ratio

15:1

Bag-box volume

45 L

Max. air speed

210 km/h

Max. air volume

9,5 m³/min

Batteries necessary (amount)

1

2nd Batteries included (amount)

0

Safety contact
Electronic speed control

Not applicable

Metal blade
Control handle
Safety button
Overload protection
Amount of wheels total

2 #

Storage type

n/a

Soft grip
Battery level indicator
Shredding function
Blowing function
Vacuuming function
Raking function
Quick release collect box / bag
Double wheel support
Patio nose
Round nose
Built in rake
Easy cleaning access
Soft start motor
Adjustable speed
Power indicator
Rotation speed (n) min

8000 min-1

Rotation speed (n) max

14000 min-1

General warranty

36 MO.
Package
| Package | Qty | Length | Width | Height | Weight | Net weight |
| --- | --- | --- | --- | --- | --- | --- |
| IN | 1 | 46 cm | 19 cm | 31.5 cm | 3.74 kg | 3.74 kg |
| OUT | 1 | 46 cm | 19 cm | 31.5 cm | 3.74 kg | 3.74 kg |
| ST | 1 | 46 cm | 19 cm | 31.5 cm | 3.74 kg | 3.74 kg |
| PAL | 40 | 0 cm | 0 cm | 0 cm | 149.6 kg | 0 kg |
---