POWDPG75300
Telescopic grass/shrub shears 20V - excl. battery and charger
POWDPG75300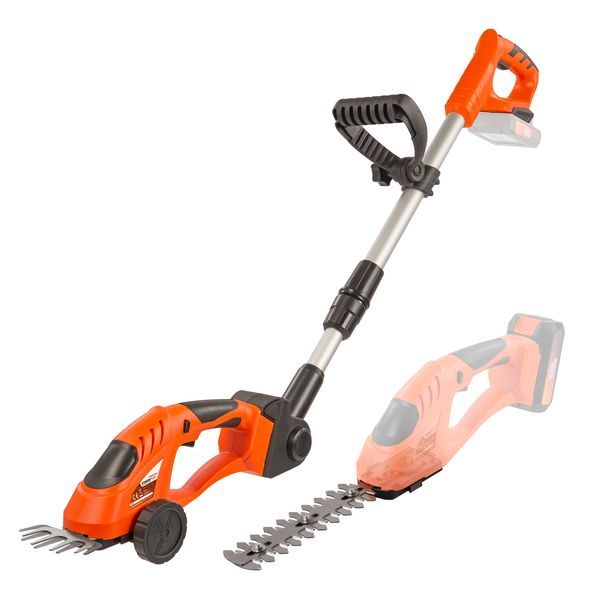 Unboxing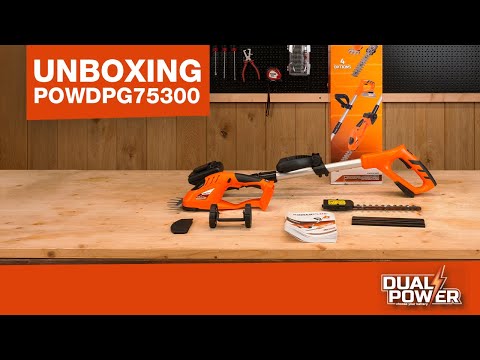 Brand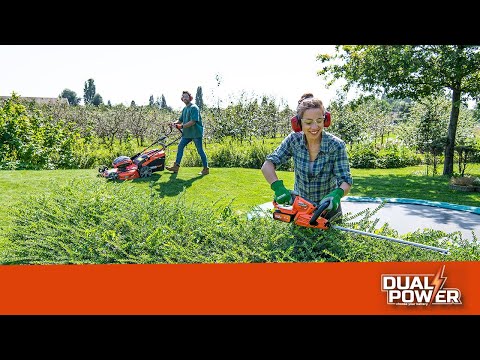 Description
If your grass or shrubbery needs a quick trim, this 2-in-1 battery-powered grass and shrub shears are the ideal tool. Use them with or without the telescopic shaft.
Battery and charger not included. They are separately available and compatible with all Dual Power tools.
What can you do with this grass/shrub shear?
This practical garden tool is perfect for small gardening chores and equipped with a 100 mm wide blade for cutting grass as well as a 200 mm long blade for pruning hedges and shrubs.
If you have big plans for your garden and want to avoid too much manual work, be sure to check out the rest of the Powerplus product range. Apart from hedge shears, we also offer electric pruners, telescopic chainsaws, grass trimmers and much more. Effortlessly maintain your lawn with Powerplus' garden tools!
Its strong points:
Extendable: The telescopic shaft prevents back strain. The tool is extendable up to 920 mm, which lets you maintain the edges of your lawn without having to bend forward constantly. Tall hedges and shrubs can be pruned comfortably as well.
4 options: This versatile tool can function in 4 different ways. Use it as grass shears or as shrub shears at the standard length or use them as a telescopic tool by attaching the extendable shaft.
Detachable wheels: When using the grass / shrub shears with its telescopic shaft, the wheels help guide the tool along the edges of the grass. Simply detach the wheels if you want to use the tool without its telescopic shaft.
Easy blade replacement: Easily adjust the tool to cut either grass or shrubs by attaching the correct blade with a simple click. With a cutting width of 100 mm for the grass shears and a cutting length of 185 mm for the shrub shears, your work will be done in no time.
Eco-friendly: No bothersome cables that get in the way, and no CO2 emissions. Additionally, the battery is compatible with different tools within its product range, so you don't need separate batteries for each tool. That is what makes this hedge trimmer the more ecological choice.
Adjustable angle: The rotatable handle can be put in 5 different positions, while the rotatable head has up to 8 different positions. You can fully adjust the tool to your working position, so you can follow the shape of your shrubbery or hedges without having to bend into awkward positions. You'll always be comfortable, even when working for longer periods of time.
Tips & Tricks:
To transform this tool from grass shears to shrub shears or vice versa, you simply detach its wheels, press the 2 buttons on the sides of the blades and secure the correct blade.
The grass / shrub shears should be kept in a dry and frost free room. Poor storage conditions can damage the tool, especially during the winter months. If possible, cover the grass / shrub shears with a piece of cloth or protective cover to keep it free of dust during long periods of inactivity.
Its key technical specifications:
Nominal tension: 20 V
Cutting width grass shears: 100 mm
Cutting length shrub shears: 185 mm
Tooth spacing grass shears: 10 mm
Tooth spacing hedge shears: 8 mm
Shaft type: telescopic
Min. and max. shaft length: 630 mm - 920 mm
Adjustable head
Laser cut blades
Soft grip
Safety button
Overload protection
What is included?
1x telescopic grass - shrub shears
Technical specifications
Box content

Manual included
Chargers - charge cable included
Number of Knife/knives included
2
Carrying belt included
Blade guard included
Extendable shaft included
Tool

Rated Voltage DC (Un) max

20 V

Sound Power Level (LwA)

85 dB(A)

Battery Capacity

0 mAh

Max. Cutting Length

185 mm

Batteries necessary (amount)

1

2nd Batteries included (amount)

0

Electronic speed control
Vibration reduction system
Safety button
Overload protection
Number of teeth hedge trimmer

10

Max length extended

1.59 m

Quick blade change
Cutting length hedge trimmer

185 mm

Cutting width grass shear

100 mm

Storage type

n/a

Soft grip
Battery level indicator

Not applicable

Soft start motor
Adjustable head
Laser cut blade
Two handed operation
Double action blade
Extended Shaft Length

92 cm

Power indicator
Rotation speed (n) min

1100 min-1

Rotation speed (n) max

1100 min-1

General warranty

36 MO.
Package
| Package | Qty | Length | Width | Height | Weight | Net weight |
| --- | --- | --- | --- | --- | --- | --- |
| ST | 1 | 85 cm | 14 cm | 19 cm | 3.02 kg | 3.02 kg |
| IN | 4 | 86 cm | 39 cm | 28.5 cm | 12.99 kg | 12.99 kg |
| OUT | 4 | 86 cm | 39 cm | 28.5 cm | 12.99 kg | 12.99 kg |
| PAL | 64 | 120 cm | 80 cm | 200 cm | 193.54 kg | 0 kg |
---