POWDPG75320
Hedge trimmer 20V 580mm - incl. battery 20V 2.0Ah and charger
POWDPG75320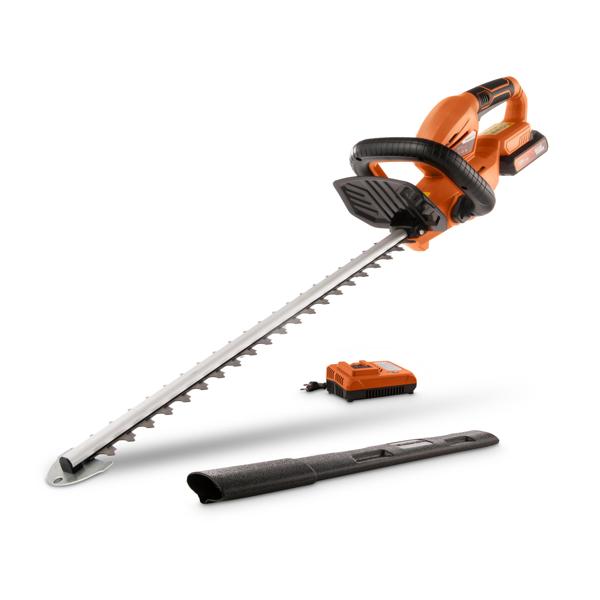 Unboxing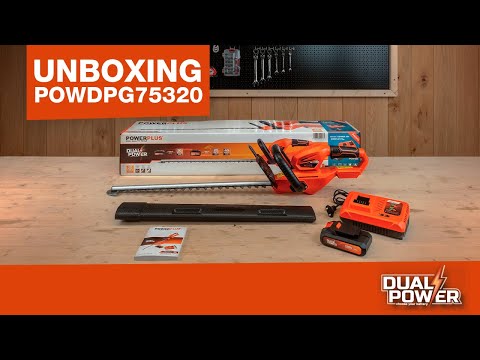 Brand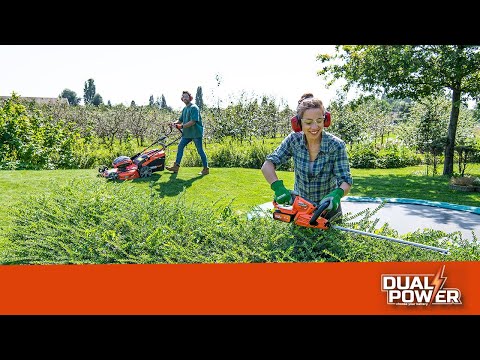 Description
This starter kit has everything you need to get started immediately. It contains a cordless 20 V hedge trimmer, for quick and easy garden maintenance. The set also includes the corresponding 20 V battery and charger, so you can get to work immediately. Additionally, the battery is compatible with all 20 V power and garden tools from the Dual Power line.
What can you do with this hedge trimmer starter kit?
Trim hedges manually? No thank you! This compact battery-powered hedge trimmer is perfect for light maintenance of hedges or shrubs. Thanks to the 580 mm long blade, you can easily trim small to mid-sized hedges. Its double action blades let you cut through branches of up to 18 mm thick.
The tool operates with the 20 V (2000 mAh) Dual Power battery, which is included in this set. The battery fits all 20 V power and garden tools from our Dual Power line. The set also includes the charger, which is compatible with both the 20 V and 2x20 V batteries.
Its strong points:
Powerful: This battery-powered hedge trimmer is equipped with an 20 V motor, which lets you cut hedges and shrubs quickly with great results.
Cutting capacity: With a 580 mm long blade, you can effortlessly trim branches of up to 18 mm thick.
Safety switch: Thanks to the built-in safety switch, the hedge trimmer will never switch on accidentally. The switch should be pressed down whenever you want to use the tool. This guarantees your safety.
Auxiliary handle: Thanks to the auxiliary handle, you can always operate the tool with two hands. It provides more control and lets you manoeuvre this hedge trimmer with more precision.
Eco-friendly: No bothersome cables that get in the way, and no CO2 emissions. Additionally, the battery is compatible with different tools within its product range, so you don't need separate batteries for each tool. That is what makes this hedge trimmer the more ecological choice.
Comfortable: The hedge trimmer is comfortable to use thanks to the soft grip handle.
Practical: The hedge trimmer operates on an 18 V battery, so it can be used anywhere. It offers full mobility for each project.
Its key technical specifications:
Power: 20 V
Max. cutting length: 510 mm
Blade length: 580 mm
Double action blades
Auxiliary handle
Safety switch
Battery capacity: 2000 mAh
Charger power: 220 - 240 V
What is included?
1x hedge trimmer
1x blade guard
1x battery charger
1x battery
1x manual
Technical specifications
Box content

Manual included
Chargers - charge cable included
Extendable shaft included
Not applicable
Number of Hex keys included
0 #
Safety guard included
Tool

Rated Voltage DC (Un) max

20 V

Blade Size

580 mm

Blade rotation speed

2400 min-1

Power cable length

0 m

Battery Capacity

2000 mAh

Max. Cutting Length

510 mm

Rated current charger

4 A

Batteries necessary (amount)

1

2nd Batteries included (amount)

0

Quick stop
Average charging time ACDC

35 min

Electronic speed control
Vibration reduction system
Safety button
Overload protection
Number of teeth hedge trimmer

21

Cutting length hedge trimmer

510 mm

Storage type

n/a

Soft grip
Safety guard
Battery weight (kg)

0.38 kg

Battery weight (g)

380 g

Battery charger status indicator
Battery level indicator
Quick charger
Soft start motor
Laser cut blade
Two handed operation
Double action blade
Power indicator

Not specified

Rechargeable battery
General warranty

36 MO.

Battery warranty

12 MO.
Package
| Package | Qty | Length | Width | Height | Weight | Net weight |
| --- | --- | --- | --- | --- | --- | --- |
| IN | 1 | 100 cm | 36 cm | 22 cm | 4.1 kg | 9 kg |
| ST | 1 | 98 cm | 20 cm | 17 cm | 4.1 kg | 4.1 kg |
| OUT | 2 | 100 cm | 36 cm | 22 cm | 9 kg | 9 kg |
| PAL | 32 | 0 cm | 0 cm | 0 cm | 131.2 kg | 0 kg |
---