POWDPG75420
Grass trimmer 20V Ø 250mm - incl. battery 20V 2.0Ah and charger - 1 acc.
POWDPG75420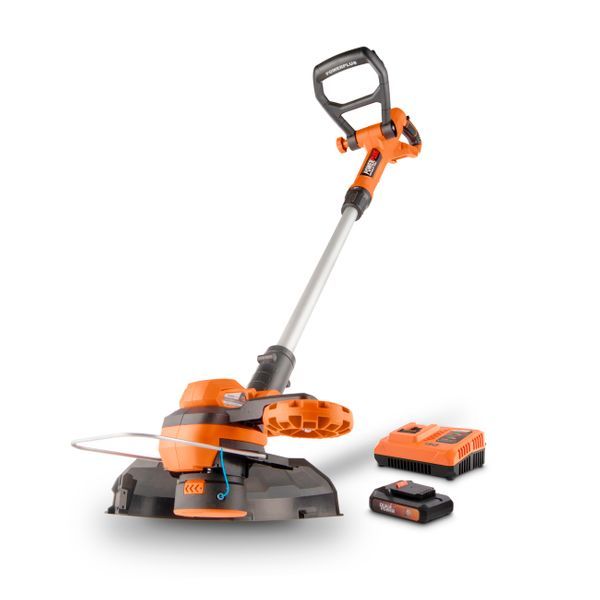 Unboxing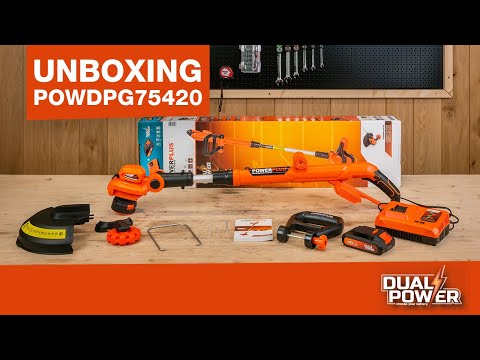 Brand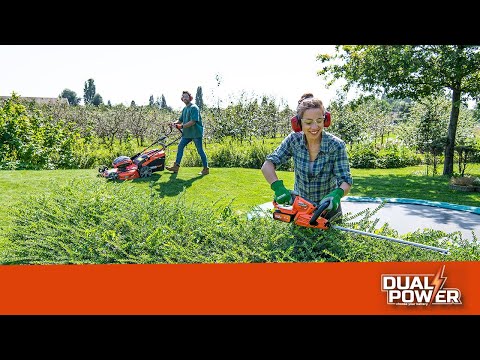 Description
This Dual Power set contains a 20 V grass trimmer, a 20 V Li-ion battery and a charger, so you can get to work on your lawn and driveway without delay. All this without the hassle of cables or the noise and smell of a petrol engine.
POWDPG7541 Grass trimmer
This cordless, compact grass trimmer from Dual Power is easily manoeuvrable and provides the necessary mobility. Thanks to the adjustable trimming angle, you can effortlessly trim both your lawn and its edges. With the edge roller as your guide, you can also cut around driveways and trees with precision. Extend the telescopic shaft from 6 cm up to 51 cm and adjust the second handle for a perfect working posture. The tool's total length can be adjusted between 90 cm and 125 cm. For added user comfort, the tool features an automatic line feed of 5 m double thread and a soft grip handle.
POWDP9011 20 V 2.0 Ah Battery
The included 20 V battery is compatible with all 20 V tools from our Dual Power range, power as well as gardening tools. It has a capacity of 2.0 Ah.
POWDP9051 Charger
Is your Dual Power battery empty? The charger is designed for both the 20 V and 2x20 V Dual Power battery. Charging time for the 2x20 V battery is 2 - 2,5 hours and +/- 40 min for the 20 V battery.
What is included?
1x grass trimmer
1x auxiliary handle
1x safety guard
1x assembly material set
1x edge guide wheel
1x flower guard
1x spool twisted thread (mounted)
1x battery charger
1x battery
1x manual
Technical specifications
Box content

Manual included
Chargers - charge cable included
Number of Spools included
1
Number of Knife/knives included
0
Carrying belt included
Tool

Rated Voltage DC (Un) max

20 V

Battery Capacity

2000 mAh

Rated current charger

4 A

Batteries necessary (amount)

1

2nd Batteries included (amount)

0

Average charging time ACDC

40 min

Electronic speed control
Spool thread diameter

1,60 mm

Spool thread length

6 m

Adjustable trimming angle
Vibration reduction system

n/a

Overload protection
Cutting width grass trimmer

250 mm

Rotation speed grass trimmer

8000 min-1

Soft grip
Safety guard
Battery weight (kg)

0.38

Battery weight (g)

380 g

Battery charger status indicator
Battery level indicator
Edge roller
Flower protection
Rotating wheel
Side edge cutter
Soft start motor
Shaft Length

410 mm

Extended Shaft Length

35 cm

Power indicator
Rotation speed (n) min

8000 min-1

Rotation speed (n) max

8000 min-1

Rechargeable battery
General warranty

36 MO.

Battery warranty

12 MO.
Package
| Package | Qty | Length | Width | Height | Weight | Net weight |
| --- | --- | --- | --- | --- | --- | --- |
| IN | 0 | 0 cm | 0 cm | 0 cm | 0 kg | 0 kg |
| OUT | 0 | 0 cm | 0 cm | 0 cm | 0 kg | 0 kg |
| PAL | 0 | 0 cm | 0 cm | 0 cm | 0 kg | 0 kg |
| ST | 1 | 0 cm | 0 cm | 0 cm | 0 kg | 0 kg |
---