POWDPG75621
Garden tool set brushless 2 items - incl. battery 2x20V 5.0/2.5Ah and charger - 1 acc.
POWDPG75621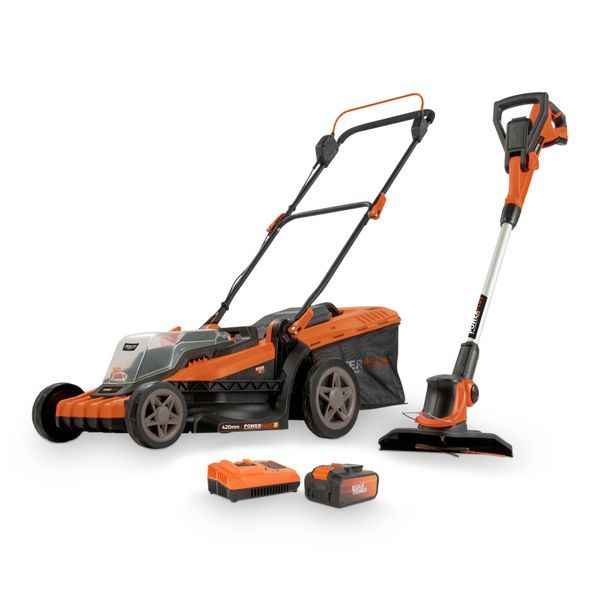 Unboxing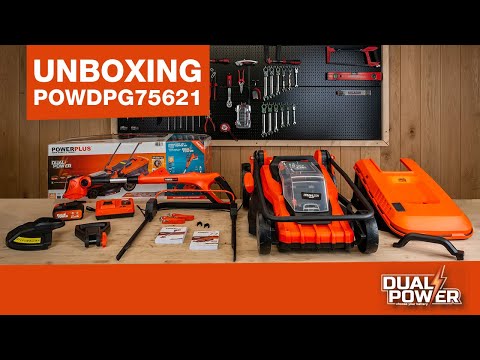 Brand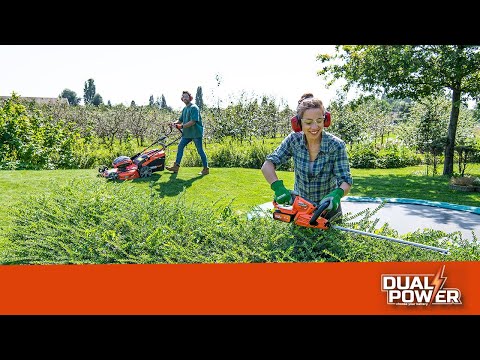 Description
This Dual Power garden tool set has everything you need to maintain your flawless lawn without any bothersome extension cords or the smell of gasoline in the air. The set features a 40 V lawnmower, 20 V grass trimmer, Li-ion battery and charger.
Lawnmower 40 V
This lightweight lawnmower has a cutting width of 420 mm and 6 different settings for cutting heights between 25 and 65 mm. The grass accumulates in the 35 L reservoir which will also indicate when it needs emptying. This mower is ideal for gardens of up to 250 m².
Grass trimmer 20 V
This compact and light 20 V grass trimmer comes with a safety guard and can be easily navigated across your lawn. With a cutting width of 230 mm, it is perfect for maintaining small to mid-size gardens.
Li-ion battery
This 2x20 V battery is compatible with all power and gardening tools from the Dual Power product range. The battery with Samsung cells has a high capacity of 2.5 Ah.
You can use the 2x20 V battery on both 20 V and 40 V tools. If you combine the battery with a 20 V Dual Power tool, you can work twice as long.
The 3 LED indicators show the remaining battery power, so you will know when the battery needs charging.
Charger
The charger is designed for the 20 V and 2x20 V Dual Power batteries. You can use it to charge both our new and older generation of batteries which means you can easily keep using your older Dual Power batteries.
Charging time is about 2 to 2,5 hours for 2x20 V batteries and 40 minutes for 20 V batteries. Once the battery is charged, a red indicator will turn green and you can continue working.
What is included?
1x lawnmower
1x trimmer
1x battery
1x battery charger
1x collection box - bag
1x carrying handle
2x cam lever
2x cable clamp
1x safety guard
1x auxiliary handle
2x trimmer blade
2x manual
Technical specifications
Box content

Manual included
Chargers - charge cable included
Tool box included
Seperate mulching kit included
Mulching knife
Collect box-bag included
Number of Cable clips included
2
Side discharge chute included
Power cord included
Tool

Rated Voltage DC (Un) max

40 V

Collect bag volume

50 L

Sound Power Level (LwA)

88 dB(A)

Battery Capacity

2500 mAh

Cutting height min

25 mm

Cutting height max

75 mm

Rated current charger

4 A

Self - propelled
Batteries necessary (amount)

1

2nd Batteries included (amount)

0

Average charging time ACDC

40 min

Number of height positions

6

Adjustable handle height
Diameter front wheel

150 mm

Diameter rear wheel

220 mm

Electronic speed control
Safety button
Overload protection
SHARPP Blade
Wheel width

40 mm

Central Adjustable height setting
Amount of wheels total

4 #

Cutting width lawnmower

420 mm

Soft grip
Lawn size up to

500 m²

Battery weight (kg)

0.720

Battery weight (g)

720 g

Ball bearing wheels
Ball bearing front wheel(s)
Battery charger status indicator
Battery level indicator
Water nozzle for easy cleaning
Top carrying handle
Front carrying handle
Full box/bag indicator
Side discharge
Mulching
Rear discharge
Edge cutting
Can collect
Quick charger
Soft start motor
Material wheels

Plastic

Wheel type

Solid

Power indicator
Bull bar protection
Battery 2 weight (g)

0 g

Rotation speed (n) min

2800 min-1

Rotation speed (n) max

3200 min-1

Rechargeable battery
General warranty

36 MO.
Package
| Package | Qty | Length | Width | Height | Weight | Net weight |
| --- | --- | --- | --- | --- | --- | --- |
| IN | 1 | 90.5 cm | 33 cm | 56 cm | 17 kg | 17 kg |
| OUT | 1 | 90.5 cm | 33 cm | 56 cm | 17 kg | 17 kg |
| ST | 1 | 90.5 cm | 33 cm | 56 cm | 17 kg | 17 kg |
| PAL | 6 | 0 cm | 0 cm | 0 cm | 102 kg | 0 kg |
---