POWDPG80620
High pressure cleaner 20V - excl. battery and charger
POWDPG80620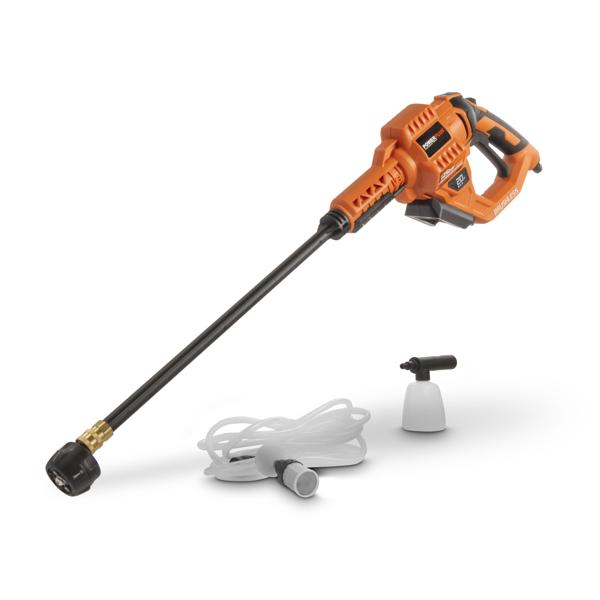 Unboxing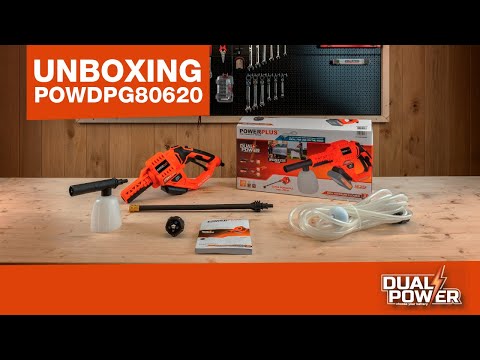 Brand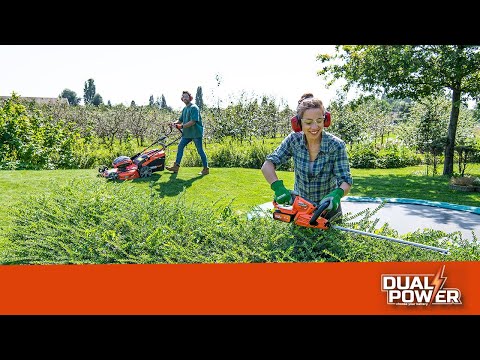 Description
This cordless pressure washer from Dual Power is ideal for use on the road. The 20 V pressure washer is equipped with a 6 m long hose, which can draw water from remote sources, such as a lake, well or pond. That makes it perfect for cleaning road or mountain bikes after a muddy ride. It can also come in handy on holiday to give the car a quick rinse. The portable pressure washer can be attached to a regular tap, by using a standard garden hose.
The Dual Power pressure washer features a powerful brushless motor, which is more durable, extends the battery's autonomy and requires less maintenance. The washer has a flow rate of 170 litres per hour with a maximum water pressure of 25 bar and you can effortlessly switch between low and high pressure.
The 5-in-1 pressure nozzle features 5 different spraying patterns, ranging from a regular water jet to a powerful precision jet. Use the detergent tank to achieve extra clean results. It can be attached easily and provides perfectly pristine results.
Separate battery and charger
The battery and charger are not included. They are sold separately and are compatible with the whole Dual Power range.
Which Dual Power batter is compatible?
This 20 V pressure washer is compatible with both the 20 V and 2x20 V Dual Power batteries. The use of a 2x20 V battery provides an even longer battery run time, compared to the use of a 20 V version.
What is included?
1x high pressure cleaner
1x lance
1x adjustable nozzle
1x soap bottle
1x self priming tube
1x water inlet connector
1x manual
Technical specifications
Box content

Manual included
Chargers - charge cable included
Adjustable lance included
Rotating (turbo) lance included
Soap bottle included
Rotating brush included
Fixed brush included
Supply hose included
Patio cleaner included
Turbo nozzle included
Brush included indicator
Angle nozzle included
Number of Cleaning needle included
0
Number of Spray nozzles included
1
Pipe cleaning set included
Number of Water inlet connectors included
1
Tool

Rated Voltage DC (Un) max

20 V

Detergent tank capacity

0,4 L

Rated pressure

25 bar

Max. pressure

25 bar

Liq. debit (capacity)

170 l/hour

Batteries necessary (amount)

1

2nd Batteries included (amount)

0

Adjustable handle height

Not applicable

Electronic speed control
Overload protection
Adjustable pressure
Wheel diameter

0 mm

Auto start / stop system
Nominal water flow

2,5 l/hour

Maximal water flow

2,8 l/hour

Inner hose diameter

8 mm

Outer hose diameter

12 mm

Built-in detergent tank
Built-in storage included
Amount of wheels total

0 #

Max Flow Rate (qmax)

170 l/hour

LCD indicator
Ball bearing wheels

Not applicable

Battery level indicator
Soft start motor
Adjustable nozzle
Detergent suction
Hose reel
Hose length

6 m

Material wheels

n/a

Power indicator
Built in Filter
General warranty

36 MO.
Package
| Package | Qty | Length | Width | Height | Weight | Net weight |
| --- | --- | --- | --- | --- | --- | --- |
| ST | 1 | 51.5 cm | 18 cm | 26 cm | 3.6 kg | 3.6 kg |
| IN | 2 | 53 cm | 39 cm | 28 cm | 8.1 kg | 8.1 kg |
| OUT | 2 | 53 cm | 39 cm | 28 cm | 8.1 kg | 8.1 kg |
| PAL | 48 | 0 cm | 0 cm | 0 cm | 172.8 kg | 0 kg |
---