POWDPSET20
Circular saw 40V - incl. battery 2x20V 2.5Ah and charger - 1 acc.
POWDPSET20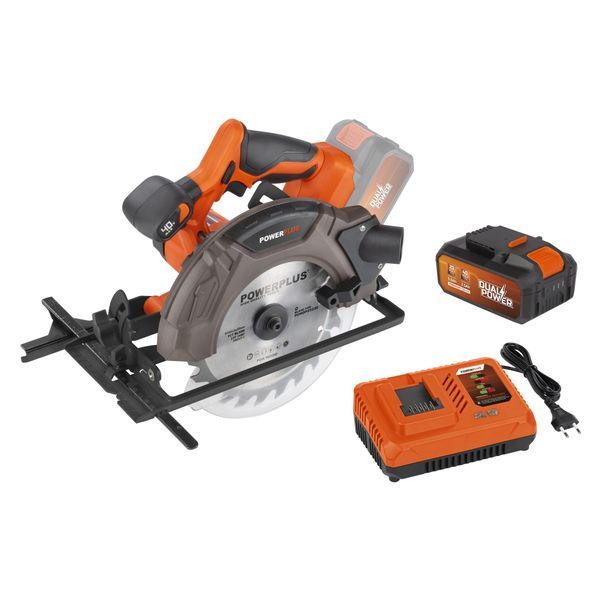 Brand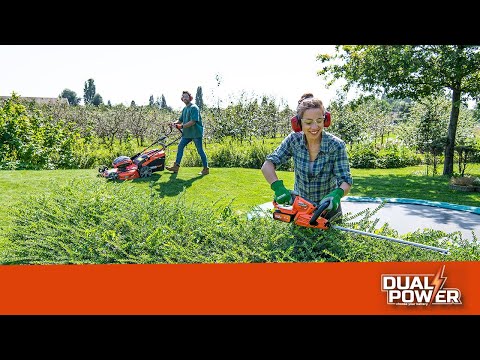 Description
This Dual Power set contains a 40 V circular saw, a 2.0 Ah 2x20 V battery and a charger.
POWDP2525 40 V Circular Saw
This 40 V Dual Power circular saw has a Ø 185 mm saw blade and reaches a speed of up to 4 000 min-1. Use the parallel guide to make precise straight cuts. Additionally, the saw blade can be tilted up to 45°, allowing for mitred cuts as well.
The cutting depth can be adjusted to the task at hand, with a maximum depth of 65 mm for straight cuts. The built-in precision laser indicates the cutting line, while the work light ensures a clear view, even in dark places.
The second handle provides added control and stability while you work. The tool is also equipped with a soft grip and connection for a vacuum cleaner. The circular saw comes with a wood saw blade and a parallel guide.
2x20 V 2.0 Ah battery and charger
This set also includes a 2x20 V battery and a corresponding charger. The battery is compatible with all Dual Power tools. When used on a 20 V device, the 2x20 V battery has a significantly longer battery runtime. The charger is compatible with all Dual Power batteries.
Technical specifications
Box content

Manual included
Chargers - charge cable included
Dust Bag/box included
Dust adapter for vacuum cleaner included
Side guide included
Mitre base included
Not applicable
Number of Spanner tools included
0 #
Number of Wrench(es) included
0 #
Number of Hex keys included
1 #
Tool

Rated Voltage DC (Un) max

40 V

Vacuum adaptor inner diameter

32.0 mm

Sound Power Level (LwA)

93 dB(A)

Battery Capacity

2000 mAh

Rated current charger

4 A

Batteries necessary (amount)

1

Average charging time ACDC

120 min

Switch dustproof
Electronic speed control
Adjustable Base
Safety button
Overload protection
Bore size

20 mm

Adjustable angle
Spindle lock
number of teeth/blades

24

Disc diameter

185 mm

Storage type

n/a

Soft grip
Safety guard
Battery weight (kg)

0.715

Battery weight (g)

715 g

Battery charger status indicator
Battery level indicator
Dust extraction airflow
Quick charger
Targeting laser
Soft start motor
Quick release - toolless disassembly
Power indicator
Rotation speed (n) min

4000 min-1

Rotation speed (n) max

4000 min-1

Cutting depth steel

0 mm

Cutting depth wood

62 mm

Rechargeable battery
General warranty

36 MO.

Battery warranty

24 MO.
Package
| Package | Qty | Length | Width | Height | Weight | Net weight |
| --- | --- | --- | --- | --- | --- | --- |
| IN | 1 | 35 cm | 22 cm | 29.5 cm | 5.34 kg | 5.34 kg |
| ST | 1 | 35 cm | 22 cm | 29.5 cm | 5.34 kg | 5.34 kg |
| OUT | 4 | 71 cm | 47 cm | 31.5 cm | 22.42 kg | 22.42 kg |
| PAL | 40 | 0 cm | 0 cm | 0 cm | 213.6 kg | 0 kg |
---