POWEW67902
Submersible pump 250W
POWEW67902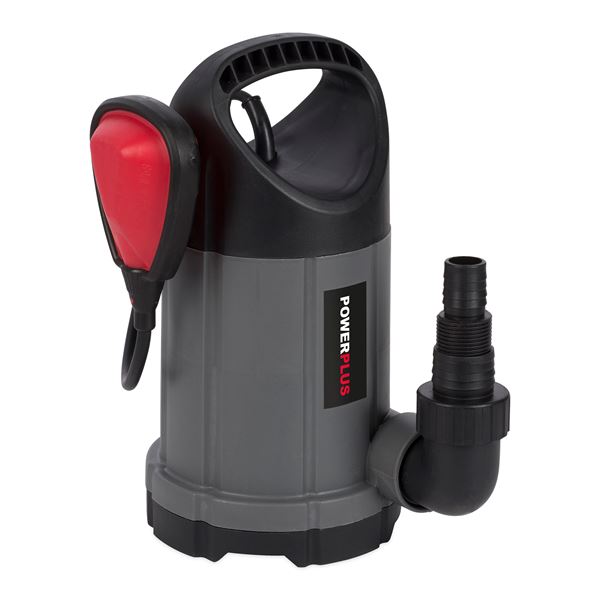 Unboxing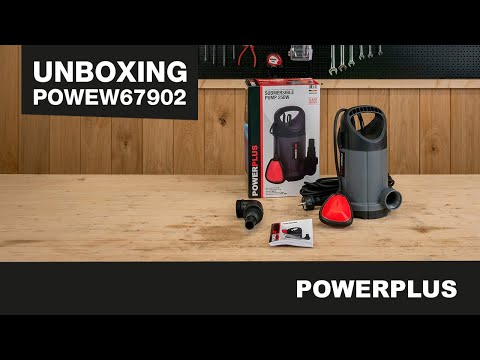 Description
If you experienced a leak and need to drain clean water from your basement and rain tank, the POWEW67902 Powerplus submersible pump is perfect for the job.
What can you do with this submersible pump?
This 250 W submersible pump can pump clean or slightly contaminated water out of your basement, rain tank, pool, pond, and more, at a flow of 5000 l/hour and with just 5 mm of water remaining.
Its strong points:
Clean water: This 250 W submersible pump can be submerged at a depth of up to 7 m, to then deliver clean or slightly contaminated water to a maximum height of 6 m.
Heat resistant: The compact and durable pump can drain water with a temperature of up to 35 °C.
Low level of residual water: The submersible pump is self-priming and leaves just 5 mm of residual water.
Floating switch: The floating switch ensures the POWEW67902 starts to work as soon as the water level in the room is too high. It will switch off again automatically when the desired water level has been reached.
Handle: The practical handle allows you to easily move the pump anywhere.
Its key technical specifications:
Rated power: 250 W
Max. suction depth: 7 m
Max. water temperature: 35 °C
Submersible depth: 7 m
Residual water height: 5 mm
Automatic deactivation height: 150 mm
Max. delivery height: 6 m
Max. grain size: 5 mm
Max. flow rate: 5000 l/hour
Water outlet diameter: 25 mm
Power cable length: 10 m
Technical specifications
Box content

Manual included
Drainage hose included
Number of Hose clamp included
0 #
Remote control included
Tool

Rated Voltage AC min (Un)

230 V

Rated Voltage AC max (Un)

230 V

Rated frequency (fn) max

50 Hz

Rated power (Pn) max

250 W

Power cable length

10 m

Submersible Depth

7 m

Max. suction depth

7 m

Automatic deactivation height

150 mm

Automatic activation height

350 mm

Activation height adjustable
Residual water height

5 mm

Self venting
Max. delivery height

6 m

Electronic speed control
Overload protection
Max water temp.

35 °C

Max grain size

5 mm

UV Resistant
Max Flow Rate (qmax)

5000 l/hour

Self priming
Manual filling necessary
Swivel ball cable restraint
Soft start motor
Floating switch
Sensor switch
Floating switch internal
Power indicator
Run dry protection
Rubber power cable
Flat suction / mop dry
General warranty

24 MO.

Built in water filter
Works with app
Package
| Package | Qty | Length | Width | Height | Weight | Net weight |
| --- | --- | --- | --- | --- | --- | --- |
| ST | 1 | 22 cm | 16 cm | 34 cm | 3.62 kg | 3.62 kg |
| IN | 4 | 34 cm | 36 cm | 46 cm | 15.08 kg | 15.08 kg |
| OUT | 4 | 34 cm | 36 cm | 46 cm | 15.08 kg | 15.08 kg |
| PAL | 96 | 120 cm | 80 cm | 200 cm | 347.52 kg | 0 kg |
---