POWX093
Router 1500W - 12 acc.
POWX093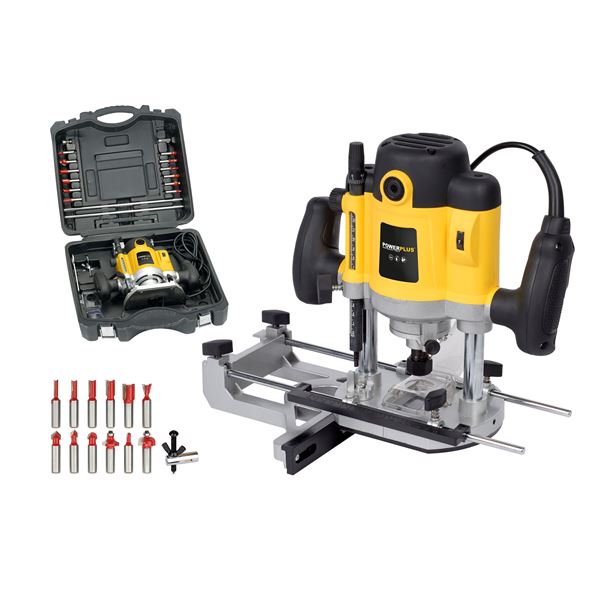 Description
This 1500W router can be used for all your routing, grooving and engraving tasks like surface decorations, edge profiling or routing grooves in all types of wood.
The depth stop enables you to set a working depth very precisely. You are also able to freely choose a rotation speed that fits your task. This guarantees you a perfect result every time.

In the strong BMC you find 12 cutting heads and a parallel guide with fine adjustment, that enables you to route parallel with the edge of your workpiece. The POWX093 comes with circle cutting accessories for routing circles and following or copying a contour or profile.
What is included?
1x router
1x assembly material set
1x circle cutting accessory
1x collet - Ø 1/2"mm
1x collet - Ø 12mm (mounted)
1x collet - Ø 8mm
1x cutter guide plate
1x hex key
1x parallel side guide set
12x router bit - Ø 12mm
1x spanner
1x storage case
1x vacuum adaptor
1x manual
Technical specifications
Box content

Manual included
Dust adapter for vacuum cleaner included
Tool

Rated Voltage AC min (Un)

230 V

Rated Voltage AC max (Un)

240 V

Rated frequency (fn) max

50 Hz

Rated power (Pn) max

1500 W

Sound Power Level (LwA)

107 dB(A)

Power cable length

3 m

Max. cutting depth (mm)

50 mm

Keyless chuck

Not applicable

Key chuck

Not applicable

Switch dustproof
Electronic speed control
Overload protection
Shaft diameter

12 mm

Storage type

Plastic case

Soft grip
Swivel ball cable restraint
Dust extraction airflow
Worklight
Soft start motor
Drill function
Adjustable speed
Quick release - toolless disassembly
Power indicator
Rubber power cable
Router depth

50 mm

Rotation speed (n) min

6000 min-1

Rotation speed (n) max

26000 min-1

Drill capacity wood

35 mm

General warranty

36 MO.

Adjustable cutting depth
Package
| Package | Qty | Length | Width | Height | Weight | Net weight |
| --- | --- | --- | --- | --- | --- | --- |
| ST | 1 | 18.4 cm | 42.8 cm | 40 cm | 8.6 kg | 8.6 kg |
| OUT | 2 | 44 cm | 38 cm | 41 cm | 17.82 kg | 17.82 kg |
| PAL | 32 | 120 cm | 80 cm | 184 cm | 275.07 kg | 440 kg |
---