POWXG6462
Shredder 2800W silent
POWXG6462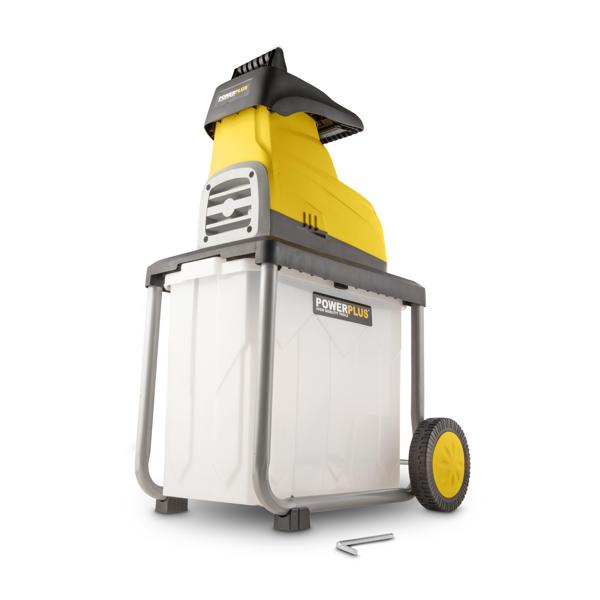 Unboxing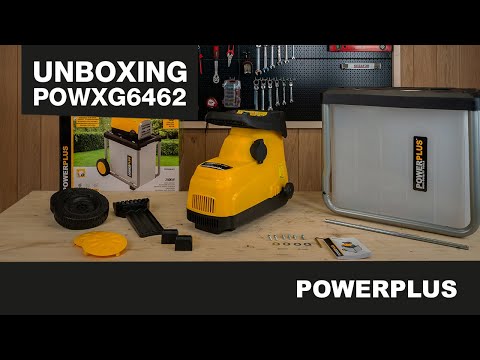 Description
Chopping branches without noise hindrance? It is possible with this silent Powerplus shredder. The device is equipped with a powerful, maintenance-free 2 800 W induction engine, to effortlessly shred branches up to a diameter of 45 mm. The included push stick guides the loppings safely to the cutting roller. The shredder pulls the branches in slowly and quietly and crushes them to the optimal size to collect them afterwards in the large 60 litre container. In other words: cleaning up the shredded material works very efficiently.
In addition, the shredder has a reverse switch, allowing to easily bring back a stuck branch. You can also adjust the blades according to the wood thickness. Thanks to the overload protection, you can be sure your device won't be overloaded. Finally, the two wheels and handle allow you to easily move the Powerplus shredder.
What is included?
1x shredder
1x push stick
2x wheel set
1x hex key
1x base frame
1x collection box - bag
2x support foot
1x assembly material set
1x manual
Technical specifications
Box content

Manual included
Accessory holder included
Push stick included
Number of Spanner tools included
0 #
Number of Wrench(es) included
0 #
Number of Hex keys included
1 #
Collect box-bag included
Tool

Rated Voltage AC min (Un)

230 V

Rated Voltage AC max (Un)

240 V

Rated frequency (fn) max

50 Hz

Rated power (Pn) min

2400 W

Rated power (Pn) max

2800 W

Bag-box volume

60 L

Sound Power Level (LwA)

66 dB(A)

Power cable length

0 m

Safety contact
Switch dustproof
Electronic speed control
Safety button
Adjustable blade distance
Forward/reverse switch
Overload protection
Reversible drum rotor
Rotatable and openable housing
silent
Max cutting diameter

45 mm

Soft grip
Swivel ball cable restraint
Soft start motor
Power indicator
Rubber power cable
Rotation speed (n) min

42 min-1

Rotation speed (n) max

42 min-1

General warranty

36 MO.
Package
| Package | Qty | Length | Width | Height | Weight | Net weight |
| --- | --- | --- | --- | --- | --- | --- |
| IN | 1 | 57 cm | 39 cm | 51.5 cm | 29.86 kg | 29.86 kg |
| OUT | 1 | 57 cm | 39 cm | 51.5 cm | 29.86 kg | 29.86 kg |
| ST | 1 | 57 cm | 39 cm | 51.5 cm | 29.86 kg | 29.86 kg |
| PAL | 12 | 0 cm | 0 cm | 0 cm | 358.32 kg | 0 kg |
---