POWXG9576
Pressure pump 1000W 19L - stainless steel ring - home
POWXG9576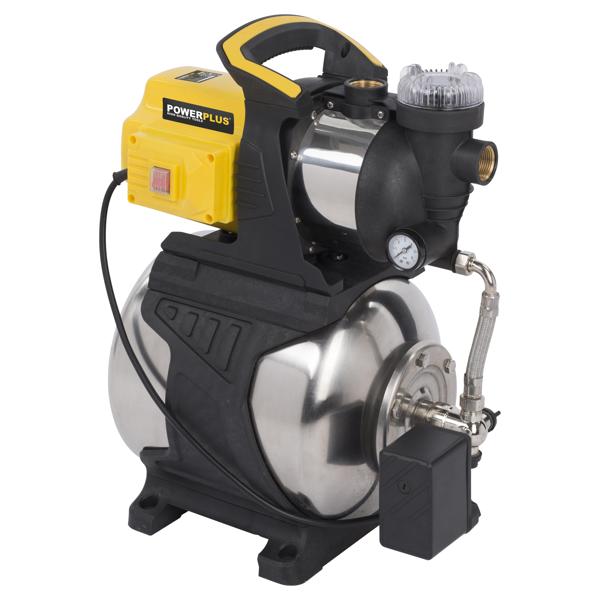 Description
This Powerplus pressure pump supplies your entire house with water at full pressure. It does so automatically, making it a low-consumption pump.
For pressure compensation, the pump is equipped with a large 19 litre water reservoir. The 1 200 W pump can draw up water from a depth of 7 m and deliver it to a height of 48 m.
The pressure pump is very durable. It has a built-in dirt filter and collects the water in a robust, stainless steel tank.
Technical specifications
Box content

Manual included
Tool

Rated Voltage AC max (Un)

230 V

Rated frequency (fn) max

50 Hz

Rated power (Pn) max

1200 W

Tank capacity

19 L

Sound Power Level (LwA)

82 dB(A)

Power cable length

1.2 m

Max. suction depth

7 m

Max. Pressure Height

48 m

Max. delivery height

48 m

Max water temp.

35 °C

Max Flow Rate (qmax)

3800 l/hour

Self priming
Needs membrane repressuring
Manual filling necessary
Run dry protection
Built in Filter
General warranty

36 MO.

Works with app
Package
| Package | Qty | Length | Width | Height | Weight | Net weight |
| --- | --- | --- | --- | --- | --- | --- |
| IN | 1 | 47 cm | 28.5 cm | 59 cm | 13.32 kg | 13.32 kg |
| OUT | 1 | 47 cm | 28.5 cm | 59 cm | 13.32 kg | 13.32 kg |
| ST | 1 | 47 cm | 28.5 cm | 59 cm | 13.32 kg | 13.32 kg |
| PAL | 18 | 120 cm | 80 cm | 20 cm | 239.76 kg | 0 kg |
---